2018 FIFA World Cup: All you need to know about the draw
The World Cup is over six months away, but a crucial moment for all 32 nations is almost upon us. The draw to determine the eight first-round groups is made on Friday. Best case scenario, a nation could emerge with a relatively easy route to the knockout stages. The reverse is also true, however.
Here is a look at some of the key questions surrounding the draw.
Where and when? Football dignitaries and international media will converge in the State Kremlin Palace in Moscow on Friday, December 1 for the eagerly anticipated draw. The ceremony is due to kick-off at 15:00 GMT.
How can I watch? The draw will be live streamed at fifa.com/world cup. There will also be regular updates on FIFA's official social media platforms.
Who is hosting? Former England star-turned-broadcaster Gary Lineker and a Russian sports journalist, Maria Komandnaya. Oddly, Lineker, the Golden Boot winner at Mexico 1986, was chosen despite being a strong critic of the apex body.
Who draws the teams? One retired soccer legend from each World Cup winning country. Diego Maradona, Argentina, Gordon Banks, England, Miroslav Klose, Germany, Laurent Blanc, France, Cafu, Brazil, Carles Puyol, Spain, Diego Forlán, Uruguay and Fabio Cannavaro, Italy. Plus Nikita Simonyan, a former Soviet great.
Who is performing? Some of the world's leading singers and entertainers. Among them Elton John (England), Luciano Pavarotti (Italy), Placido Domingo and Julio Iglesias (Spain), as well as Le Cirque du Soleil (Canada).
How do the pots work? Each team has been assigned to pots ranging from one to four, based on world ranking. Russia, as the host nation, is in pot one.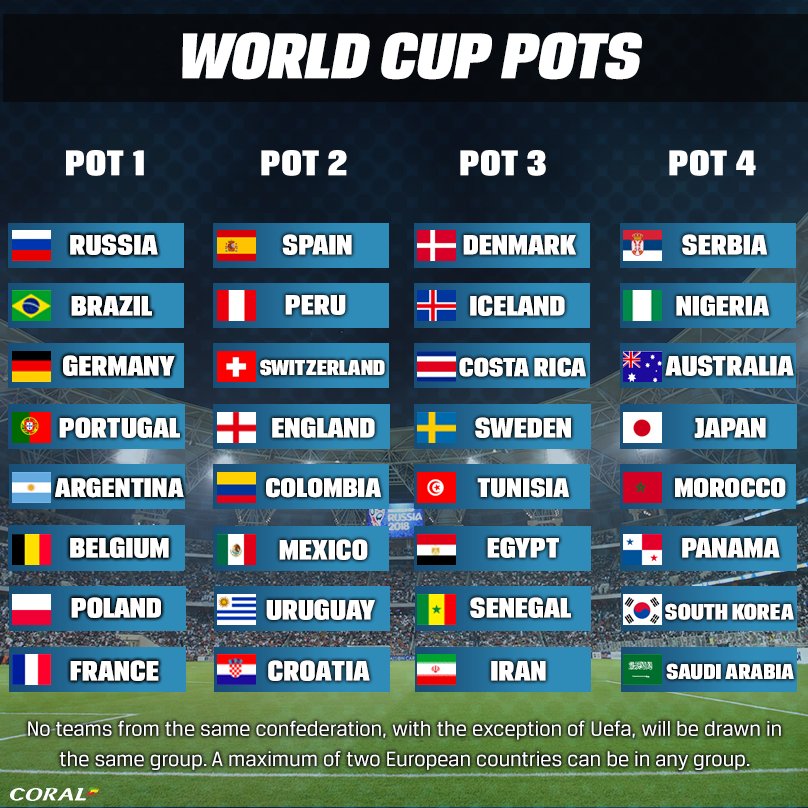 What about the draw? The four pots are emptied by drawing the nations one by one and placing them into eight groups (A to H) of four teams. Hosts Russia will occupy the top position in Group A, while the seven other seeds take the top spots in Groups B to H. The remaining 24 nations from pots two to four are decided when they are drawn. As is customary, balls will also be used to determine the order of the matches.
Any restrictions? With the exception of UEFA, which has more qualifiers (14) than there are groups, no teams from the same confederation can be drawn together.
The teams to watch? The World Cup favourites will have an eye on Spain and Croatia, hoping to avoid both pot two nations. In the same pot, England's fate will be revealed. Iran is another intriguing team after breezing through qualification without a loss.