2019/20 Bayern Munich Bundesliga preview
Bayern's hunt for the eighth consecutive Bundesliga title wouldn't be plain sailing.
The Bundesliga had become a stroll for Bayern Munich since 2012/13 season, until last term, when Lucien Favre inspired Borussia Dortmund to mount a serious challenge; eventually coming up just short. A real message was sent out in the title-deciding meeting between the pair. The Bavarians thrashed Dortmund, clinching an unprecedented seventh successive league title in the process.
Manager Niko Kovac had several voids to fill in the summer transfer window. But unlike their rivals in the black and yellow, Munich didn't have a very busy summer; though the business they did conduct was hugely positive (on paper anyway)...
Die Roten aren't short on talent. Manuel Neuer wasn't anywhere near his best last season though, probably due to his long injury lay-off in the 2017/18 campaign. You'd expect him to be back to his brilliant best this time around. Sven Ulreich, who took the goalkeeping responsibilities in Neuer's absence continues to show he's a more than capable back-up.
Bayern's defence wasn't as water-tight as you'd expect. Despite being crowned champions, 32 goals were conceded. For the first time in six seasons, Munich didn't ship the fewest goals in the Bundesliga. RB Leipzig takes that crown as they conceded just 29.
Father Time is undefeated. Jerome Boateng and Mats Hummels started to show signs of ageing. The latter was eventually allowed to head back to former club Dortmund while the former continued to be utilised less and less. That's probably why 23-year-old Niklas Sule is now being given a significant increase in playing time. Expect that trend to continue.
While the central defenders struggled, Bayern's full-backs continued to flourish. David Alaba delivered another solid season over on the left, with the Austrian continuing to prove his worth. On the opposite flank, Joshua Kimmich rightfully earned all the plaudits. The 24-year-old right-back didn't miss a single minute of league football in 2018/19, registering two goals and tacking on thirteen assists.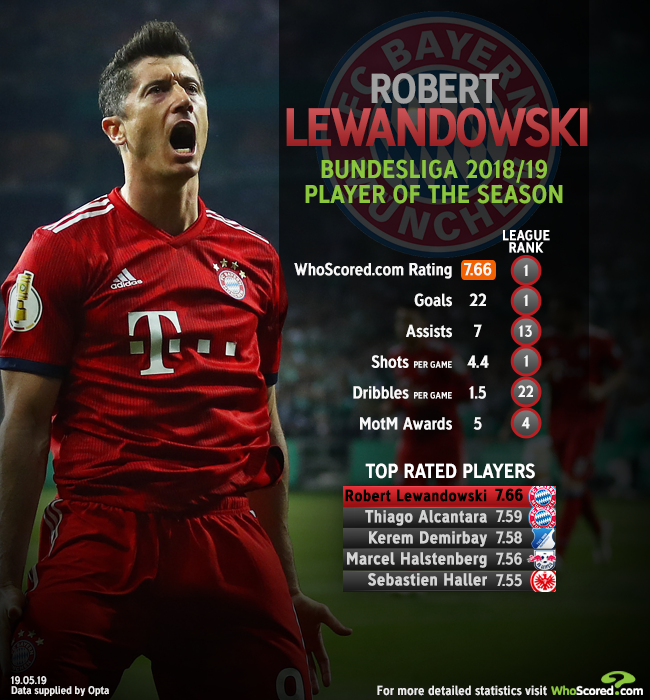 Robert Lewandowski finished the 2018/19 campaign as the top scorer in the Bundesliga and fired Bayern Munich to their seventh straight league title - he is our Player of the Season
Full player statistics --
https://t.co/gbiuHO4Iu0
https://t.co/KgaNJa9lL1
Thiago Alcantara has been the orchestrator in Bayern's midfield since his move from Barcelona back in 2013. Last season was no different for the Spaniard while Leon Goretzka excelled alongside him. Javi Martinez provided solid back-up whenever needed, too. As for James Rodriguez, he'd quickly like to forget his time in Bavaria. The Colombian has since headed back to Real Madrid.
If goalkeeping and defence was the major let-downs, Kovac made up for that with his razor-sharp attack. As expected, Robert Lewandowski spearheaded the front line as the Polish ace topped the scoring chart of both the club and the league with 22 strikes. Serge Gnabry, Kingsley Coman and Thomas Muller also thrived, with occasional help from long-term servants Franck Ribery and Arjen Robben. As both veterans have decided to move on, the burden on Gnabry and Coman will only increase.
There's one more player I'd like to mention; Renato Sanches. After a couple of frustrating seasons, it could now be time for the Portuguese whizkid to finally make his mark.
Transfer-wise, the sale of Hummels to Dortmund for €30.5m is an excellent piece of business. Kovac already had the German's replacement in place, signing Lucas Hernandez for €80m from Atletico Madrid. Other sales include centre-back, Marco Friedl, heading to Werder Bremen for €3.5m, while Rafinha was released after eight years at the club. Bayern has decided to replace two players with one, acquiring Benjamin Pavard from VfB Stuttgart in a deal worth €35million. The 23-year-old's versatility will certainly come in handy.
Bayern has also added more flair and experience to their attacking line with Ivan Perisic coming in from Inter Milan. Young attacker Jann-Fiete Arp has also been added for squad depth.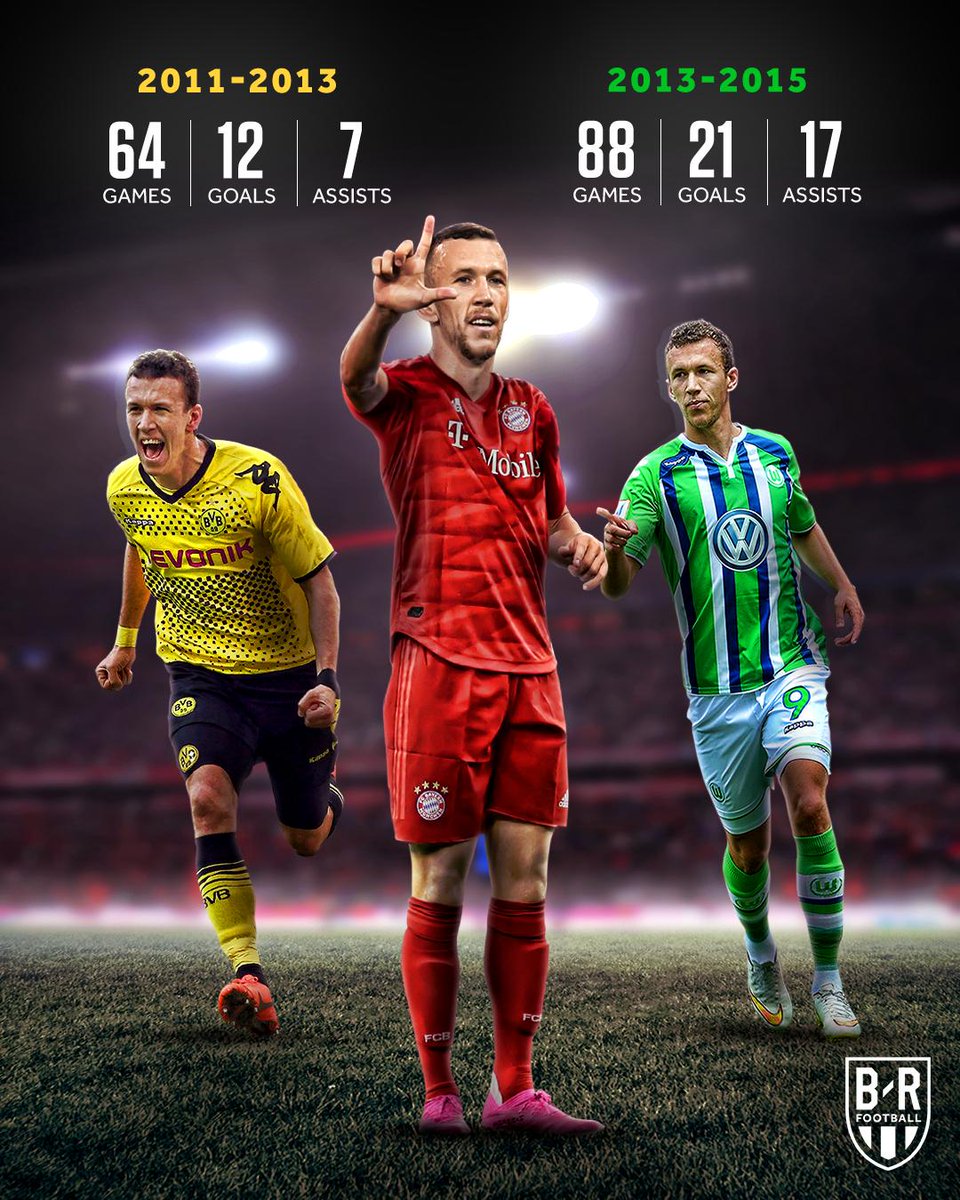 Many eyebrows were raised when Kovac was announced Bayern Munich manager before the start of the 2018/19 season -primarily because he wasn't considered an elite manager unlike his predecessors. The 47-year-old Croatian might have failed in Europe, but he made his point by snatching the league title from the grasp of their fiercest rivals Borussia Dortmund. Kovac is contracted until the summer of 2021 and the current transfer window suggests that the club is firmly behind their manager.
The Bavarians are always favourites to win the title. That isn't going to change anytime soon. If pre-season and the transfer window is anything to go by, then once again Dortmund will be their main challengers. One thing is for sure, Bayern will have to do more than what they did the previous season to retain their crown as kings of Germany.
Bayern will start their campaign at home against Hertha Berlin; the only team outside the top 5 to beat them last season. Kovac certainly can't overlook it as just another ordinary fixture. Then they will take on mid-table sides Schalke 04 and Mainz. Following that will be their season's first stern test, when they visit the Red Bull Arena to play RB Leipzig in mid-September.
Bayern has had a mixed pre-season, including defeats against the North London clubs Arsenal and Spurs. Borussia Dortmund also gave them a wake-up call by clinching the German Super Cup. This season isn't going to be a stroll in any manner. Bayern simply cannot afford any slip-ups and they shouldn't take anything for granted...