Does Donny van de Beek fit into Zidane's Real Madrid master plan?
After Rodrygo Goes, Eder Militao, Luka Jovic, Eden Hazard and Ferland Mendy came in so soon after the transfer window opened that it was like they'd camped out for Black Friday, all went quiet on the Real Madrid front. Club President Florentino Perez delivered every item on reunited manager Zinedine Zidane's list except one, a new midfielder. Paul Pogba is reportedly the number one target. Christian Eriksen is allegedly Plan B. Neither deal has legs, though. Time for Plan C, Donny van de Beek.
The latest Ajax star to be linked with a big move abroad, following Frenkie de Jong's early signing with Barcelona and Matthijs de Ligt's long-laboured decision to join Juventus, Van de Beek is a more economical option than the Premier League duo but also less refined. The dynamic 22-year-old was Erik ten Hag's wild card last season, popping up unexpectedly to provide big goals. He's different than both Pogba and Eriksen, probably from every midfielder on the market for that matter. Each is a unique artist and boy does Zizou need that artistry.
Van de Beek is not an out and out #10 in the sense that he can also play the box-to-box role. He has the engine, discipline and technical abilities to fulfil both roles equally and efficiently. Los Merengues lack those energetic legs in the middle of the park. Among the veterans, Luka Modric is 33, Toni Kroos turns 30 in January, Isco and James Rodriguez are not known for their mobility and Casemiro plays a different role altogether. Zidane has not faith in the younger players in-house. Mateo Kovacic and Marcos Llorente were sold. Daniel Ceballos and Martin Odegaard are out on loan. Fede Valverde is very much a work in progress. The Ajax sensation is still maturing himself, but the grass always looks greener in someone else's garden. Especially when they hand you your hat in the Champions League Round of 16.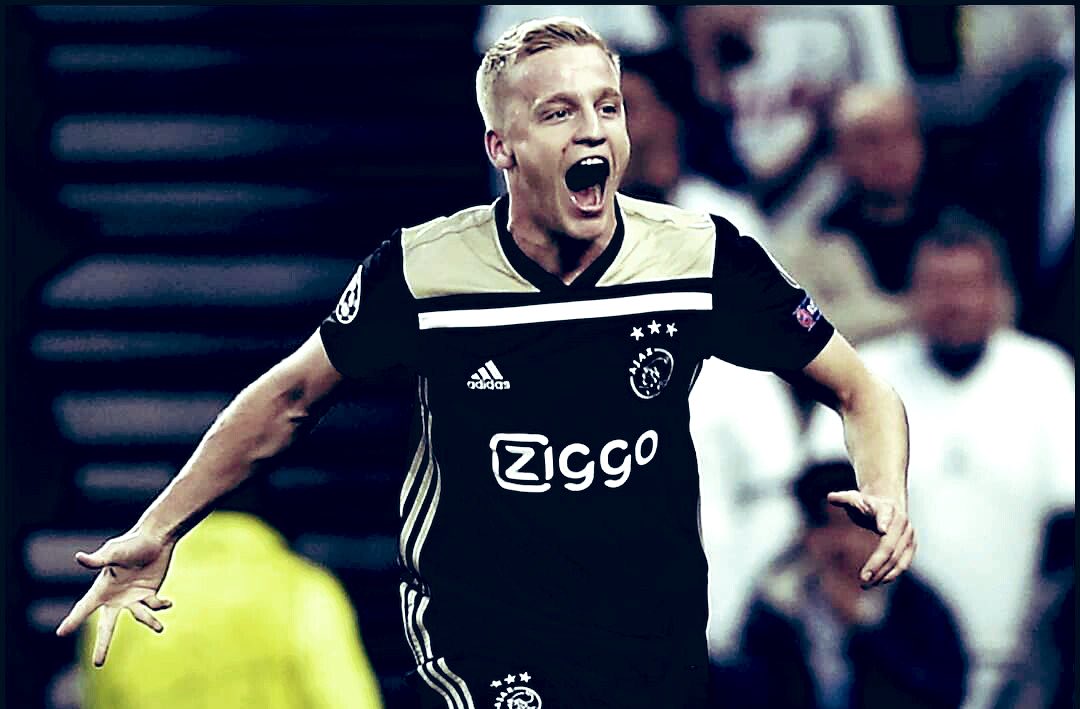 Van De Beek's move to Real Madrid gains pace as August 8th EPL deadline lurks nearer
Pogba was Zidane's priority No 1 & Eriksen the discarded option among the Attacking midfielders available
VDB last season = 30 G+A
Price = €60-€80M (5 Years)
Via Marca, AS & Marcelo Bechler
https://t.co/1wIiQ6IWnH
Zidane is tactically flexible. Van de Beek is adaptable. The French strategist has gone with the 4-2-3-1 so far in pre-season but he'll also play midfield trios or diamonds. The Dutch youngster can serve as an eight or a ten as needed.
When Karim Benzema plays his version of a false nine, Van de Beek will have license to break in behind and arrive in the final third, where he comes alive.
He is an excellent receiver of the ball and accelerates the build-up when in midfield. He also reads the play like a scholar, anticipating when and where to invade the box before defenders can react. Spatial awareness is his biggest strength. As a #8, he drifts in the half-spaces between the lines and manipulates the angles to draw defenders out, creating space either for himself or teammates. His passing could do with an upgrade but Van de Beek still created 1.5 chances per 90 last season.
The 22-year-old's first thought is to play the ball forward, then get into the box for the subsequent cross or cutback. He is strong aerially and a cool-headed finisher, traits which he shares with Pogba. Unlike the Frenchman, however, he doesn't bog himself down in complex manoeuvres. His simplicity is compelling.
Working tirelessly for the team, he has excellent movement on and off the ball. He will press, trackback and scuffle for the ball in a crowd. He made two tackles, one interception and over five ball recoveries per 90 last term. His decision making is pretty much spot-on.
The 6' midfielder relishes the big occasion. His assists vs Bayern Munich and Real Madrid and the goals against Tottenham, Juventus and rivals Feyenoord were all critical moments in Ajax's unexpected success in 2018/19. Real Madrid needs those goals from midfield and that creativity. Van de Beek gives them that without the need to sell players to finance his acquisition.