5 summer destinations if Isco leaves Real Madrid
Isco is spoiled for choice if he can't coexist with Santiago Solari at the Bernabeu.
Isco's become encaged in his own paradox after not taking kindly to Santiago Solari's appointment as Real Madrid manager. A favourite of former manager Julen Lopetegui, he's barely featured under the Argentine, starting only one game in all competitions since October. Their relationship is broken beyond repair.
While Real Madrid are cruising too comfortably to care about his sorrows, Isco seems destined to head elsewhere in the summer. After a move in winter was blocked off, he'll probably be allowed to leave after the season so that Los Blancos can get a proper replacement for him. A hot target in the transfer market, many big guns eye the tricky Spaniard.
He has a future in the Premier League if he wishes so, while he's attracted attention from other big leagues as well. So let's dissect which destination's really Isco's best option should he move on from Real Madrid next season.
Chelsea
As Eden Hazard inches closer to his "dream" Real Madrid move, Los Blancos could use Isco as leverage to get him for a discounted fee. The Spaniard is allegedly willing to move to the Premier League after being attracted by Chelsea's prospect. While not exactly Hazard's replica he also possesses enough tricks in his playbook to produce similar majestic moments the Belgian made famous.
However, isolating him just to the left-wing would be wasting his talents. Maurizio Sarri should tweak his system with Isco's introduction, playing him through the middle being protected by N'Golo Kante and Jorginho. If Isco gets enough freedom to become the core component in Chelsea's attack, he can definitely get the best out of Gonzalo Higuain. The Spaniard can produce genius moments Premier League defenders aren't ready for. Fiddle with his ability to score, he can fit in well at Chelsea, if they're ready to play through his strengths.
West Ham United
Now, this might be an unconventional option, yet with West Ham United on the rise under Manuel Pellegrini, why not? Isco's played under the Argentine gaffer at Malaga in La Liga and could be intrigued at reuniting with him. With Jack Wilshere's West Ham move not proving fortuitous, Isco can not only bring star-status, but also spark the missing cutting edge in their game.
However, there's a question on whether he can coexist with Felipe Anderson. The Brazilian star's stolen the spotlight for himself at the London Stadium. With both stars operating from the same side, they need perfect synchronization with each other to elevate the Hammers into a top side. West Ham possesses the resources to ply him away from Real Madrid, but the final decision's Isco's.
Manchester United
Chelsea isn't the only English side interested in Isco. Manchester United have also kept tabs on his situation, readying themselves to pounce on any opportunity to get him. Isco could add more flair and creativity to their attack but might end up another failed signing as well. He can't operate through the left, which has been solidified by the brilliant Anthony Martial recently.
Isco won't get utmost freedom in midfield due to Paul Pogba, who's relished under Ole Gunnar Solskjaer. He could turn out as ineffective if curbed down by the Red Devils, while a deal itself is hard to finalise due to United's bitter relationship with Florentino Perez.
Bayern Munich
The Bavarians are also in pursuit of the unhappy midfielder, who can inherit guaranteed success upon joining the German giants. Bayern also plays an attractive style which relies on fluid, passing football and hopes to replace James Rodriguez with Isco. The Spaniard fits into their philosophy pretty well. If allowed to pull the strings from midfield, can run riot in the German Bundesliga.
If he wants to keep winning things, Bayern is the safest destination for Isco. They'll elevate his status and help him reach peak form. He can score as well as assist goals at a more regular basis due to their superior squad. However, if he wants more competitiveness to test himself, maybe joining the Bavarians isn't the best option.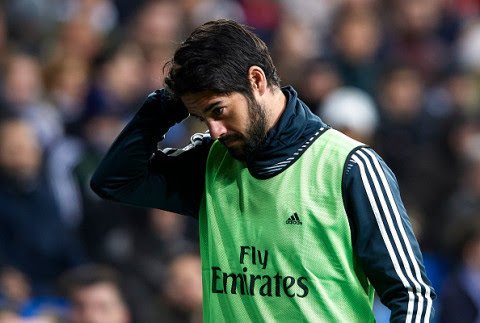 Isco's relationship with Real Madridmanager Santiago Solari has deteriorated significantly this season to the point that the situation is now 'irreversible'. [AS]
#CFC #
ChelseaFC
#
Isco
https://t.co/6k1bySfO7u
Arsenal
Mesut Ozil is at the brink of exit from Arsenal and who better than Isco to replace him? The Spanish midfielder can blend into Unai Emery's style like fish to water, possessing the ability to bring back the excitement factor in their attack. Like Ozil, if he's given enough freedom to dictate how Arsenal attack and stitch together chances in the final third, he can come alive.
With two prime strikers in Alexandre Lacazette and Pierre-Emerick Aubameyang ahead, Isco will relish in a free role. He can be an upgrade to Ozil thanks to his work ethic and ability to operate smoothly in various roles. While Isco will be under pressure to undertake much responsibility to become the creative lynchpin for the Gunners, it can also be the ideal move to prove his world-class ability as well as take the Premier League by storm.
Stay at Real Madrid
While it may be a suicidal decision for his career, if Isco can work hard enough to win back Solari's confidence, things can blossom for him like never before. He's already playing for the best club in Europe and has the talent to stay there for a long time. If Isco can get his personal differences aside and improve his work-rate to impress his manager, a comeback is definitely on the card.
At Real Madrid, the sky's the limit for him. He's also a ready-made replacement option for the ageing Luca Modric. Not only can the Spaniard dictate the games' tempo, but he's also capable of producing majestic moments which can soon make him a Real Madrid icon.