AC Milan's New Year's Resolutions
AC Milan have some tough decisions to make this January
New Year Resolutions aren't the obsession they once were. Gone are the days when a fresh year is accompanied by a long list of unrealistic targets. AC Milan wouldn't mind reliving those dreamful days, however. The Rossoneri need rapid proactive measures to stop the rot at San Siro.
AC Milan experienced an indifferent 2018. Gennaro Gattuso guided the club to a respectable sixth-place finish after inheriting a heterogeneous, expensively assembled squad from Vicenzo Montella. As well as a return to Europe, the maverick Italian manager reached the Coppa Italia final.
Optimism isn't in the cards, this term. Gattuso's negative approach has come to the fore. Before Saturday's sturdy 2-1 victory over SPAL, they endured a four-game winless and goalless run. Although Milan slot into fifth with 31 points, one behind Lazio, they are only six points above Parma in 12th.
With the Serie A in recess till next week, there's is ample time for some drastic decisions. Here are four that may revive the club's fortunes.
Sack Gattuso
On the surface, this appears harsh. Especially after that huge, momentous SPAL win and considering certain factors connived against him. In the long run, though, it may prove foresighted. Gattuso never seemed suited to the club even as an alumnus.
His team have been boring to watch. Jose Mourinho would still be a huge fan, but the club must sell more than one ticket to each game. Bereft of fluidity and creativity, there's no pressure on the ball, no momentum and a dulled blade where a cutting edge is needed. Gattuso's system has been pragmatic and effective at times but counter-productive in too many instances.
Calling his tinkering a system is generous, too. Last season, he often deployed the 4-3-3. Now, he's adopted a 4-4-2. At first, it seemed dynamic. Gonzalo Higuain and Patrick Cutrone played well together. Their enthusiasm has been strangled, however.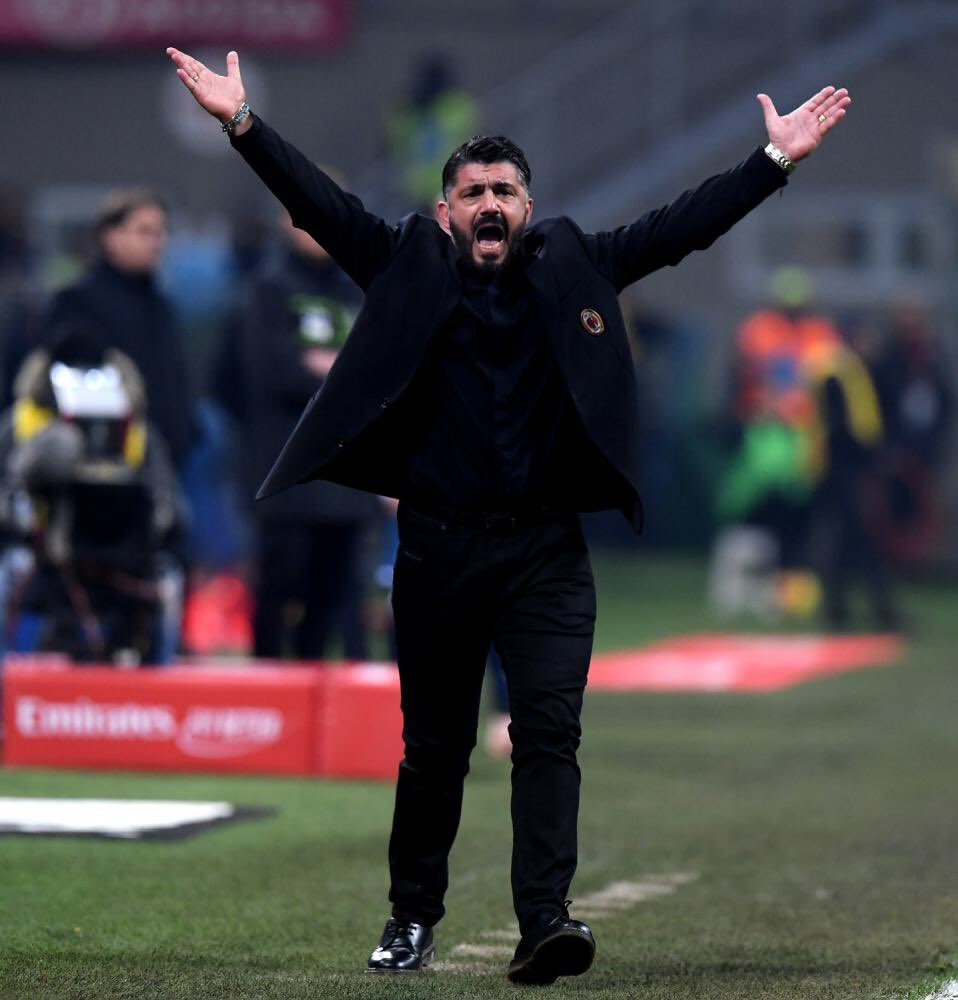 Meeting took place between Gattuso and the Milan management including Gazidis, Leonardo and Maldini after the SPAL game, where they reiterated their full support to the Milan coach. There is maximum confidence in the technical guide of the club in which there were no doubts [Sky]
https://t.co/tbtW4DUOkf
Keep players fit
Easier said than done but fortune hasn't smiled on the Rossoneri. Gattuso rarely enjoyed the luxury of his entire squad. It's either his defence or midfield is short of personnel. Sometimes both. No fewer than 10 players have rested in the treatment room.
The signs are positive. Mateo Musacchio, Andrea Conti and Alessio Romagnoli are back in the squad after long spells. The trio craved a huge void at the back. Lucas Biglia and Mattia Caldara are expected to be available by February.
Bolster squad
Gattuso's squad was stretched to the limit during the first stanza, particularly, in midfield. Tiemoue Bakayoko was the standout performer. However, his pairing alongside Franck Kessie didn't quite deliver the desired results. With Biglia set to return, there's hope.
There are concerns though that the Argentine may not hit top form swiftly. Whether or not he does, Milan must strengthen. The Rossoneri are going about the winter with dignity. Brazilian midfield sensation Lucas Paqueta have joined from Flamengo. Sassuolo pair Stefano Sensi and Alfred Duncan are expected to follow.
Make Higuain happy
Gonzalo Higuain cut a frustrated figure for the most of Serie A's first stanza. His body language was that of an unhappy man, still hurt by the manner he was bundled out of Turin. His new acquaintances at San Siro weren't hospitable. When not arguing with referees, the Argentine is remonstrating with his teammates, frustrated with his isolation.
Without that warmth, Higuain struggled to reach his usual high standards. The former Real Madrid striker scored six goals in 15 Serie A appearances. Prior to his strike against SPAL last Saturday, he had endured two barren months.
With proper service from the middle, Higuain will have that big grin on his face again. The Argentine lives for goals. Without them, he'd literally be lifeless.