Crazy like a Fox? In last place, Fulham hire football's nicest manager
There's sound psychology behind the saying 'nice guys finish last'. Late in a gruelling season, tired squads invariably need a push to make it over the line. Nice guys don't like to push. To compound the problem, teams can take it the wrong way when they do. If you ask anyone, they'll tell you Claudio Ranieri is a nice guy.
How did a nice guy win the most improbable Premier League title of all? In part, it was so unexpected simply because Ranieri is more well-liked than respected. I could be wrong. Maybe after 16 stops [if you count Valencia twice] over 30 years in management without ever winning a top-flight campaign, the 65-year-old decided to push.
However, most opinions on that season argue none of the top six wanted the title as badly, a bit like the trophy was just lying in the street and the Foxes picked it up. That's taking it a bit too far. Ranieri had a very good roster. Jamie Vardy and Riyad Mahrez were deadly on the counter. Shinji Okazaki and Leonardo Ulloa pitched in at important moments. Wes Morgan and Robert Huth were a solid veteran tandem in front of Kasper Schmeichel. They were well shielded by N'Golo Kante and Danny Drinkwater. Marc Albrighton was always scrapping. Demarai Gray, Andy King and Christian Fuchs were always ready whenever Ranieri called. The entire squad was in career form but, even while believing in themselves, they were as surprised as anyone that opportunity kept knocking on the door like the sweetest Jehovah's Witness you'll ever meet. Ranieri didn't have to push because none of the top clubs were either. He just needed to keep the mood positive.
That in itself isn't an easy thing. Nor would every manager recognise restraint as the correct option. It would be so easy to answer the urge to do more. Ranieri showed his class through calm, composure, and self-awareness.
Problems arose the following season. The boss knew rivals weren't going to be so accommodating a second time. Nor could the squad be allowed to believe they were better than they were. If you listened to Pep Guardiola immediately after Manchester City won their title, you know what I'm saying. In June, he spoke about being harder on his squad this term so that they wouldn't be complacent.
When you listen to Pep in pressers, he sounds like a nice guy, too. Only when you watch him swap a prolific Samuel Eto'o for Zlatan Ibrahimovic then freeze the Swede out of the Barcelona lineup, or listen to him screaming in a Bundesliga lineswoman's face over an offside call, or nod approvingly as he alternates between hugging Raheem Sterling for his excellent performance and trying to squeeze his brains out immediately after their victory in the Manchester Derby, refusing to let the winger off the hook for his showboating, you understand there's a ruthless, manipulative streak under the classy veneer. He's not a nice guy and he never finishes last.
Ranieri knew Leicester needed to be pushed early in their title defence. The players didn't understand. Rumours of a revolt leaked from the King Power clubhouse. Jamie Vardy and Kasper Schmeichel, team leaders, were allegedly behind the uprising. The squad stopped playing for the manager. Eventually, the board gave the players what they wanted, replacing Ranieri with squad favourite Craig Shakespeare. We know how that worked out. Claude Puel, another outsider albeit with a less tolerant approach, is now in charge.
Virtually everyone in the Premier League community criticised the Foxes and supported Ranieri. Guardiola, Antonio Conte and Jose Mourinho, not exactly the tea and cucumber sandwich crowd, were among the most vocal.
As he deserved, Ranieri landed on his feet, hired for the 2017/18 campaign by Ligue 1 side Nantes. The club is owned by Polish entrepreneur Waldemar Kita who ironically made his fortune in optics.
The Italian's positivity had an immediate effect. The Canaries remained in the hunt for European places, occupying 5th spot well into the season's second half. When it came time to push, however, Ranieri chose to do so in an unexpected direction. As the team began to fall down the table in spring, he criticised Kita for failing to fund reinforcements in the January window. Kita, in turn, raked his manager over the coals until Ranieri suggested the chairman sack him and be done with it. In the end, he finished out the campaign with the Canaries nested in ninth. On the penultimate weekend, Kita had the last word, announcing Ranieri would not return "by mutual consent". The Italian, ever the gentleman, had only positive things to say about his former employer. Even when pushed out the door, he's not one to push back.
Now 67, the Italian found no takers to begin the season but Fulham's desperate straits convinced owner Shad Khan to pick up the phone. When a manager fails, ownership often replaces him with a contrasting personality. Slavisa Jokanovic was set in his ways. Once he decides on a plan, he doesn't veer away from it. Bottom of the Premier League, his open, attacking style was backfiring. His squad scored 11 goals in 12 league games while conceding 31. Open didn't mean quite what the Serb intended. Ranieri, on the other hand, is known to tinker. When club play resumes after the break, expect to see changes in the Cottagers shape, tactics and starting XI.
Youngster Ryan Sessegnon may resume the more advanced role that paid dividends in the Championship but to which he was no longer entrusted in the top flight. Or Ranieri might apply other methods to create more chances for striker Aleksandar Mitrovic while simultaneously shoring up the back end. Unlike Jokanovic, he's an experienced tactician not set in his ways. If Leicester originally responded to his ministrations and Nantes, too, Fulham fans have every reason to expect a change in fortunes at Craven Cottage. They'll welcome the new man.
Why not? As the rest of the league already knows, he's a class act. Now, deservedly, he has another chance to prove nice guys don't finish last.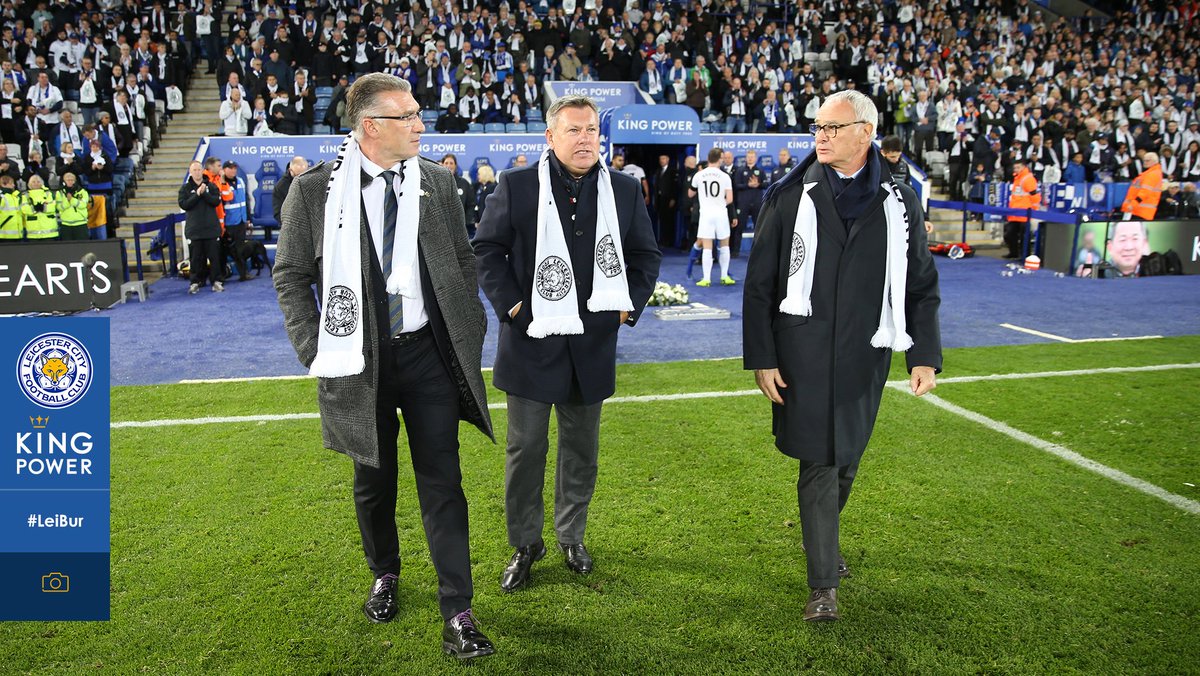 Nigel Pearson, Craig Shakespeare and Claudio Ranieri returned to King Power Stadium yesterday in an act of solidarity following Khun Vichai's passing.
https://t.co/vHVgc1roxu