Forget the money; Does David de Gea deserve the Manchester United armband?
Background image: Karina Setiawan
Have you noticed the green and yellow is fading from your Manchester United-related Twitter feed? #MeToo. Like many hot-button issues, #GlazersOut was apparently built for a hundred-metre hurdle rather than a marathon. As the season nears, United play a few friendlies and Ole Gunnar Solskjaer's project takes on an appealing shape featuring attractive, energetic football, the furore is dying down.
Relax. I said dying down, not going away.
A few die-hards carry on the fight but most United supporters appear satisfied that academy stars Mason Greenwood, Tahith Chong, Angel Gomes and James Garner have taken their preseason opportunities in both hands, that the club isn't giving up on Harry Maguire and that all the fuss over Paul Pogba apparently amounted to the Frenchman telling the club 'sell me or back me but make up your mind'.
Solskjaer spent more than one presser in Australia and Singapore backing his midfielder. Juan Mata spread the love to Twitter during the Asian Tour. The two players have been joined at the hip off the pitch while carrying out promotional and charitable work or just relaxing. There always seems to be a young player or two in tow, especially Aaron Wan-Bissaka.
The manager insists the player remains a positive influence on the squad. Key members of the squad echo those remarks and are constantly pictured smiling and laughing with Monsieur Labile, often with him in the centre of the frame.
Two years ago, Pogba was dabbing it up with best mate and new signing Romelu Lukaku at a Beverly Hills mansion during United's preseason US Tour. Now, the Belgian wants to leave the club. If Pogba were of like mind, wouldn't you expect him to be palling around with Big Rom rather than the entire United squad?
All the clues suggest Pogba is where he wants to be. Maybe it's time to accept that and move on.
Ed Woodward and the Glazers are apparently doing so. They continue to pursue Maguire to address the club's greatest need but it's also making the rounds that they've finally hammered out an extension for David de Gea and Solskjaer may appoint him captain when it's signed.
James Ducker at the Telegraph reported the deal will keep the Spaniard between the Old Trafford sticks through 2025 and pay him £375,000/wk. Personally, I buy into the homegrown ethos and would have been happy for the club to string De Gea along until October or November to see how Dean Henderson handled the Premier League before shelling out all that dosh on a player you don't want to be the best or most critical in your lineup. Nor do I wish to see the club spend money on transfer fees as foolishly as they did with Alexis Sanchez. That said, United can afford to raise the bar on player wages, so why not? If the club pays top dollar to keep its best in-house stars, that will revive interest from world-class players at other clubs. Their agents will point valuable clients in Ed Woodward's direction.
Meanwhile, the rest of the press corps seized on De Gea's answer to a question about the armband and ran with it like Marcus Rashford and Daniel James breaking out on the counterattack.
I've been captain for some games. Of course, it is amazing to be captain of a club like Manchester United and defend this badge. It's amazing, so of course I'll be really, really happy to captain.
Maybe it's De Gea's choice of 'I will' rather than 'I would' that sparked the frenzy but, hopefully, cooler heads prevail.
Unless you believe captaincy is akin to the Royal Family, with its primary function being ambassadorial, and fair play if you do, a goalkeeper is ill-suited to the role.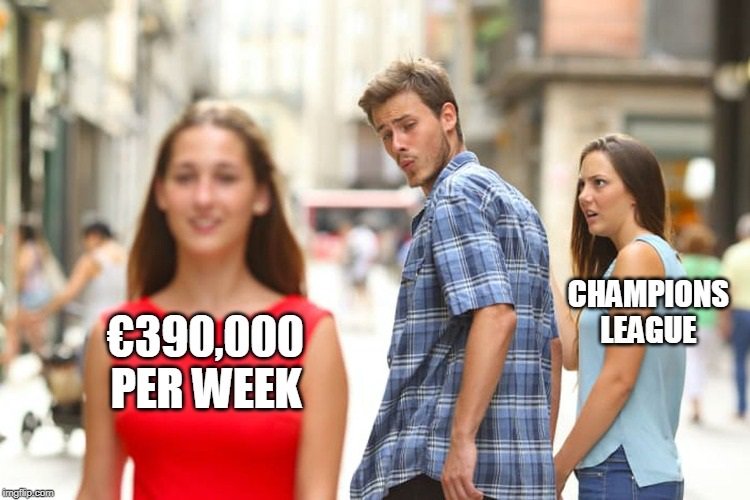 At a club like Manchester United, a No.1 wearing the armband is even more out of place. Literally. Like every other top-six Premier League side, even Chelsea in their best seasons under Jose Mourinho and Antonio Conte, the Red Devils are expected to spend most of their time in the opponent's half of the pitch in virtually every game. How does David de Gea lead when he is 50 or more metres behind his comrades for most of the game?
If the club is saying, 'Here Dave, you were our Player of the Year four times and carried us through a really difficult spell. You deserve this and don't worry, someone else will do the grunt work', then fine. Another player can organise the side while De Gea sips from his water bottle and exchanges banter with the ball boys behind the goal.
But if Solskjaer is reviving the 'Manchester United Way', someone else should take over for Antonio Valencia, someone who is on the pitch match in and match out and commands the respect of the squad.
Traditionally, that has been a hard-nosed type like Bryan Robson, Roy Keane or Nemanja Vidic. Ole's cupboard is a little bare in that department. Victor Lindelof may be developing into captain material but the Swede isn't ready yet. Beyond him, there's the other Nemanja, Matic, but giving the Serbian the armband risks a repeat of Valencia's absentee captaincy.
Which brings us back to the smiling face at the centre of all those preseason photos. Pogba has had one or two dustups in his time with United although his reputation is more 'devil may care'. Nevertheless, he already commands the respect of the squad. Young and old, they look to him for leadership.
If Solskjaer designates Pogba as captain, the challenges for the player will be two-fold.
One, he cannot take too much on himself during matches. Preseason hijinks like those against Inter, entertaining as they are, should be left behind in Singapore. His remit must be to keep everyone involved rather than trying to carry the ball through the opposing team alone.
Two, he must respond when the going gets tough. A little more of the hard-nosed Pogba must creep into his game. Not so much that he draws a red card against Arsenal and misses the match against Manchester City but enough to wake up his teammates and serve notice to foes that he will not be cowed.
That attitude is there. Solskjaer can draw it out. It begins with the trust and patience Jose Mourinho was too reluctant to give.