Gerardo Martino says, 'Gracias, pero no gracias' to Atlanta United extension
Gerardo Martino won't extend his Atlanta United contract beyond this season.
Many things are coming to the United States: the mid-term elections, a caravan of Central American refugees, the MLS Cup. One person is leaving. He's Gerardo 'Tata' Martino. European football fans know him as the manager who succeeded the late Tito Vilanova as Barcelona manager. South American fans are familiar with his stint as Paraguay boss and a prematurely terminated run in charge of his native Argentina's national team.
He cut ties with Argentina of his own accord after guiding them to consecutive Copa America finals. Each time, La Albiceleste fell to Chile on penalties after failing to score in 120 minutes even with players such as Lionel Messi, Sergio Aguero, Ezequiel Lavezzi, Angel di Maria and Gonzalo Higuain at his disposal. Martino cited rampant corruption within the AFA as the reason for his resignation. It may sound like sour grapes but he wasn't lying.
Edgardo Bauza acted in a caretaker capacity while the AFA sorted itself, not doing much on the pitch but at least talking Lionel Messi out of retirement. The new administrators entrusted the team to Jorge Sampaoli. If you don't know how that ended, you were orbiting the Earth in a Soyuz space capsule rather than watching what was happening on the ground in Russia. Suffice it to say Argentina still hasn't found a way to win with the world's greatest player in their midst.
While his countrymen floundered, Martino came to America to show Major League Soccer how not to be a retirement league. In 2014, Arthur Blank, the NFL's Atlanta Falcons owner, agreed to pay a $70 million franchise fee to enter MLS. In 2016, the business side in place, Blank hired Martino to build the team from scratch.
Other than USMNT goalkeeper Brad Guzan, the Argentine refrained from recruiting 30-something stars from UEFA clubs looking for one last payday. To begin, MLS enforces a strict wage cap. The only blank portion on the cheques issued to purchase players was the owner's signature. In addition, Martino planned for the long term.
He focussed on talented young players like Venezuelan Josef Martinez, Paraguayan Miguel Almiron, Argentines Hector Villalba and Yamil Asad to build a squad well-versed in the use of afterburners. United could win the ball then go from zero to in-the-net in mere seconds. The boss planned long term but saw nothing wrong with contending immediately either. His squad challenged for the top place in the Eastern Conference but came up just short in the playoffs.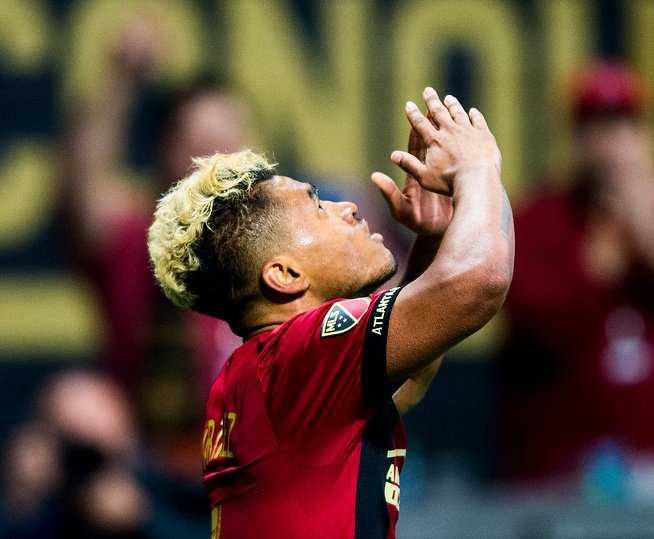 #
ATLUTD
are up for several MLS year-end awards!
•Josef Martinez & Miguel Almirón for MVP
•LGP & Michael Parkhurst for Defender of the Year
•Brad Guzan for Goalkeeper of the Year
•Guzan for Humanitarian of the Year
•Tata Martino for Coach of the Year
Voting kicks off Oct 15
https://t.co/E0NuD6KQzL
Asad moved on in the winter, with Portland Timber/US international winger Darlington Nagbe signed to fill his shoes. Nagbe never caught fire on the wing. Martino moved him into a central role while installing 24-year-old German Julian Gressel on the right flank where he produced four goals and 12 assists. Gressel and Nagbe proved Martino's interest was for technically gifted players with pace whether or not they were South American. He didn't forsake his roots, however, signing 19-year-old Independiente sensation Ezequiel Barco to complement Gressel on the left flank. The youngster contributed four goals and two assists when rotated into the squad.
With width and [for most] a year's experience added to talent and pace, Atlanta are one result away from winning the Supporters Shield as the team with the best regular season record in 2018. They're favourites to hoist the MLS Cup in just their second year. Fans and neutrals were already wondering what Martino might do as an encore if United could pull it off. The last thing they expected was for him to say farewell before the playoffs even began.
On Tuesday, the club announced their manager politely declined to consider a contract extension. He'll leave when the season's complete. Tata's saying tara. Considering the conflict at his last job, Martino went to great pains to communicate no such problems existed this time. For him, the intrigue was building the team. Job done, it was time to seek a new challenge.
The decision was not made for financial reasons, negotiations with the front office were transparent and fair. It was simply the right move for me and my family at this time. The opportunity to build a team from the start does not come along often, and I am grateful to the club and to the fans for putting their trust in me to establish a solid foundation here in Atlanta. What is most important now is that the focus remain on our goals for this season.
There's no question the board, players and fans all wanted Martino to stay. While other MLS clubs established identities and styles throughout the league's history, none were as clear, vibrant or pronounced as Atlanta United. You don't wonder how the Five Stripes will approach a game. You know they're going to turn on the jets and attack. The question is what the other team can do about it.
The Argentine's legacy is instilling identity into American soccer. In the current hateful, racially charged climate, I can't help wonder whether identity politics played any part in his departure?
The strongest rumours position him to take over for Juan Carlos Osorio in Mexico. The USMNT's been without a permanent coach for eleven months. The USSF has never hired a Latin American boss in their entire history. It's always been Americans or Europeans. While Tata's squad sits atop the table, ready for a run at the MLS crown jewel, Columbus crew boss Gregg Berhalter hopes to squeak into the playoffs in the sixth and final Eastern Conference berth. Whether or not he does, he's touted as the leading candidate for the USMNT job. The federation never addressed Martino as a candidate, even to say he wasn't interested.
At the same time the game's governing body appears to be ignoring him, Martino can't ignore the person elected to run the country attacking Latin Americans at every opportunity, branding them criminals and rapists, suggesting refugees attempting to escape political unrest are gangbangers and middle-eastern terrorists or, at best, here to steal jobs from real Americans.
Martino told the Atlanta board he wanted to seek a new challenge but also spend time with his family. It's not difficult to imagine his loved ones being unhappy living in such an environment. Even though Atlanta might be the most progressive, least prejudicial city in the United States, it isn't difficult to imagine Martino would feel less like an outsider in Mexico despite being too gentlemanly to confirm it.
Argentina still searches for Sampaoli's permanent successor, as well. Tata's been discussed as a candidate to return to settle unfinished business. First, he'll wrap up his affairs in Atlanta, attempting to secure the Supporters Shield and MLS Cup before departing. It's a shame to see him go.