Is all the Europa League pressure on Ozil?
Background Image: Mathaeus Abuwa
Six goals, three assists and a controversial international retirement. For Mesut Ozil, the 2018/19 campaign will act as an obnoxious stain on his illustrious career. The German has found himself the focus of new manager Unai Emery's abhorrent man management skills. The Spaniard's refusal to build the team around the £300,000-a-week man has dominated headlines and forced Ozil's agent to severely come to his defence in retort to criticism from fans and pundits alike. However, today in the remote location of Baku, all could be forgiven if the attacker delivers a performance, we know he's capable of.
The entirety of Arsenal's season hinges on the UEFA Europa League final against Chelsea. If the Gunners were to leave victorious, they would return to the coveted Champions League - a competition that brings much-needed financial and player-pulling incentives. A loss would mark Emery's first season at the club as no better than Arsene Wenger's worst two. The ex-Sevilla boss was brought in with the sole objective of qualifying for Europe's premier competition and in the final game of the season, it will be Ozil who holds the key to that success.
Since arriving in the Premier League, the 30-year-old has directly contributed to 84 goals in 166 games, making him amongst the most productive players the league has ever seen. However, this term, the German's stats have resembled those of Emile Heskey, not Zinedine Zidane. Let's have a look at the below-par season in numbers:
2 assists in the league: despite playing 24 games, the German returned his lowest ever assist total since being in England. (WhoScored)
1,118 passes: the German was able to average 46.58 passes per appearance despite only creating 3 big chances all season. (PremierLeague)
24 Premier League appearances: of which only 20 were starts and even in those starts, he was substituted off in 10 of those games. (Transfermarkt).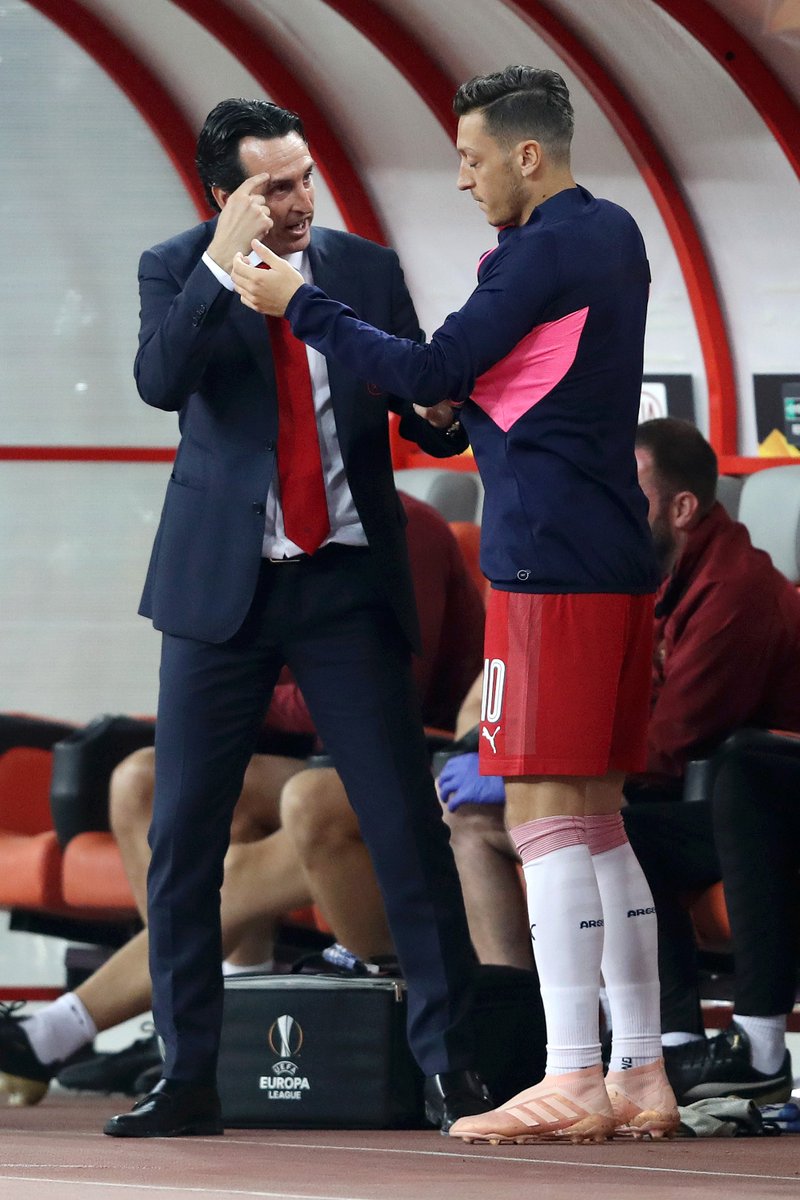 "I'm not for selling someone like Mesut Özil because Mesut Özil is the kind of player you want in your team. The amount of chances that Mesut Ozil is making on a regular basis, he's top in all five European leagues."
- Ian Wright
https://t.co/inFCzbdgUs
How many of those appearances were memorable? Just one: the home game against Leicester in which he scored and assisted within a magical 15-minute spell. For a world-class player, it's difficult to understand how he's failed to consistently impose his creativity on a team that boasts both Pierre Emerick-Aubameyang and Alexandre Lacazette in attack. Even his sternest of fans would have to admit that the German has the ideal environment and players around him to thrive. For goodness sake, the man notched up 19 assists with Oliver Giroud up top. There's no excuse for the 30-year-old; he must do some serious soul-searching throughout the summer.
In his position this season, Emery has preferred to use Aaron Ramsey and Henrikh Mkhitaryan, two players who work as hard off the ball as they do on it. And despite the initial backlash, he has been justified in those selection decisions. Unfortunately for Emery, Ramsey has been ruled out for the season with an injury while Mkhitaryan has had Europa League dream cut short due to personal safety concerns.
Earlier in the campaign, Arsenal defeated the Blues 2-0 at the Emirates. The key to that result was Arsenal's off-the-ball pressing, especially regarding Jorginho. Emery deployed Aaron Ramsey as an attacking-midfielder with the sole focus of marking the Brazilian, thus disrupting Chelsea's flow of play. With Ramsey not available, all eyes will be on Ozil to not only create chances but to, more importantly, press Chelsea's central playmaker off the ball. As a World Cup winner, Mesut Ozil is accustomed to performing on the big stage and producing in high-profile situations, the Gunners just need one more ounce of brilliance from their marquee player.
There are still rumours circulating that Unai Emery may choose Alex Iwobi over the German, but whether the trust in Ozil has deteriorated to that point remains to be seen...