Why isn't Luka Modric living up to the Ballon d'Or tag?
In the beginning, there was a vast sporting void. Then the English created Football. They ventured out from their Albion Garden of Eden to spread the game to the world while taking everything else in return. When the rest of the world sought equal football status with the Empire, the Brexit seed was planted. As it is now, so it was then. The French stepped in. On the first day of their coup, they created FIFA and Jules Rimet said it was good. On the second day, they created the World Cup and Rimet said it was better. His Disciples named the trophy in his honour. On the third day, they created coefficients, which was just confusing. On the fourth day, however, French Football created the Ballon d'Or and it was fantastic. On the fifth day, they rested until 1998.
While football is a team sport, individuals are celebrated. Winning the Ballon d'Or is not an easy task. There are many top footballers in Europe. Winnowing the field to three is difficult enough. Then one must be declared the best. From 1990 to 2007, the award moved from one hand to another. In that span, only Ronaldo from Brazil won it twice, in 1997 and 2002. His Tintin haircut apparently didn't influence the voting. Zinedine Zidane won in 1998 but came second to Luis Figo two years later.
That generation featured many highly-skilled footballers who displayed little difference in quality and performance. No one stood out or, more accurately, everyone did. Rivaldo, Michael Owen, Pavel Nedved, Andriy Shevchenko, Ronaldinho, Fabio Cannavaro and Kaka were all anointed. David Beckham was not.
Everything changed in 2008. Cristiano Ronaldo and Lionel Messi put up numbers that astounded the world for a decade, regularly scoring 40 or more goals, winning domestic league and Champions League crowns, polarising the world into two camps.
Before Ronaldo and Messi, five players won the award a second time: Alfredo di Stefano [1957, 59], Franz Beckenbauer [72, 76], Kevin Keegan [78, 79], Karl Heinze-Rummenigge [80, 81], and the original Ronaldo [97, 02]. Another trio claimed it a third time. Johan Cruijff [71, 73, 74], Michel Platini [83, 84, 85], and Marco van Basten [88, 89, 92]. Messi and Ronaldo the later each took five turns on the podium before Luka Modric came along last year.
The 2017/18 campaign was the pinnacle in the Croatian's career. The deep-lying playmaker won the Champions League and La Liga title with Real Madrid and carried his national team to the World Cup final. His performance came at a time when the media was tiring of Messi and Ronaldo's dominance. No one else was putting up better individual numbers than the pair. Nor were they fading. Instead, voters returned to the days when they decided the award based on the player's contribution to his teams' success. Cannavaro claimed the award in 2006. Although a defender, he was the precedent for Modric.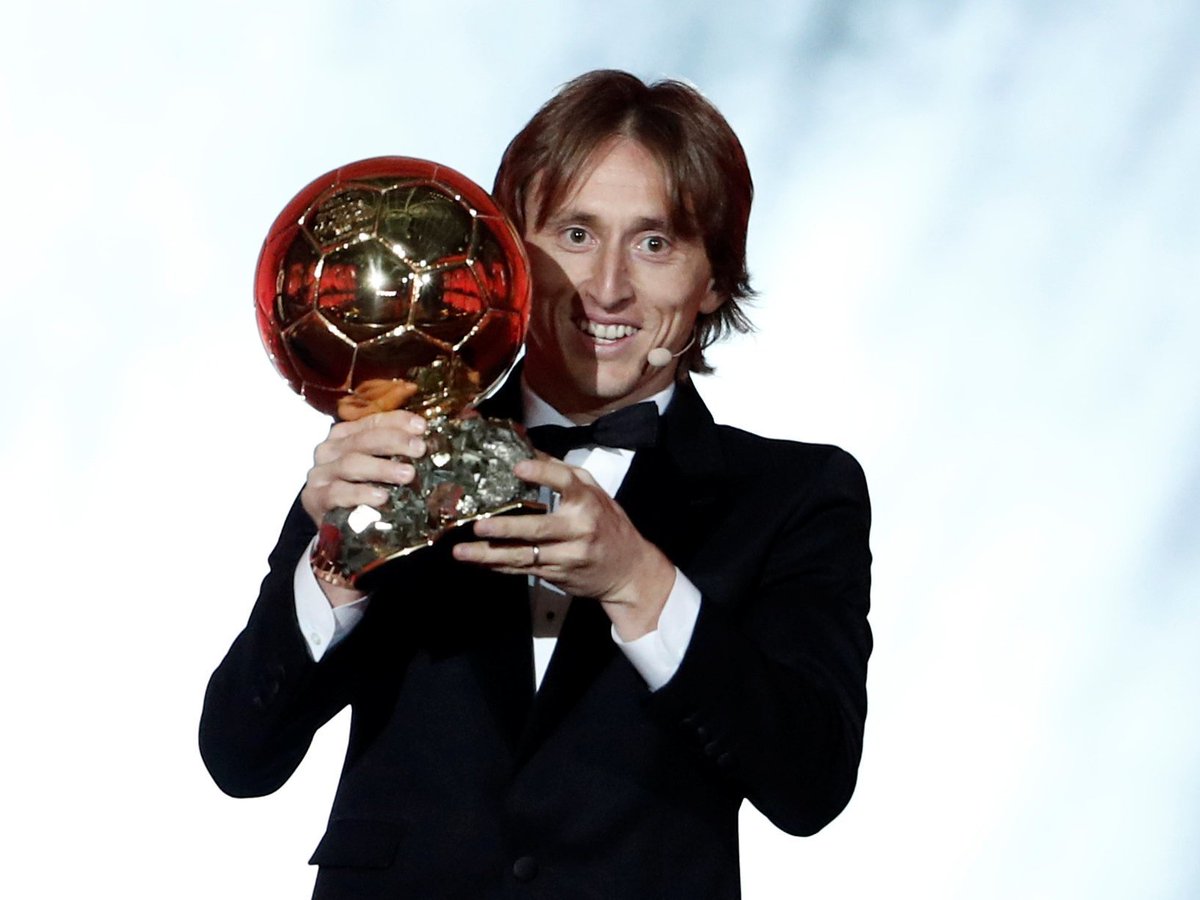 "Modric's Ballon D'Or doesn't make any sense, he doesn't assist or score goals"
- Former Barcelona, Atleti and Real Madrid coach, Antic.
https://t.co/klzwsj7zvp
At the World Cup, Modric was consoled by Croatian President Kolinda Grabar-Kitarovic. Afterwards, perjury charges against him in a former manager's corruption trial were dropped when it was suddenly decided insufficient evidence existed. At the awards ceremony, he kissed the trophy. The consequences were not so beneficial. Everyone now expected him to work miracles 24/7.
Although Ronaldo and Messi are acknowledged to be on a different level, the standard they set was applied to their usurper. Upon winning the Ballon d'Or, neither relented. They kept on lifting their teams and performing magic. Ronaldo's quality fired the Merengues to four Champions League triumphs in five years. Messi led the Catalans to three Champions League titles, seven La Liga and six Copa del Rey titles within the last decade. They never ceased pulling tricks. Theirs were the acts, Modric was expected to follow.
A deep-lying playmaker is a facilitator, however. If his more advanced teammates don't finish, it reflects upon him. When Ronaldo left Real Madrid for Juventus, Karim Benzema, Gareth Bale and Vinicius Junior had their moments but failed to replace his consistent scoring even as a threesome. While Benzema and Bale were castigated for not doing more, questions were also asked of Modric.
Even on the international stage, Modric's presence isn't felt. During the terrifying 6-0 loss to Spain in September, the no.10 couldn't lift his team. Although the Checkers gained revenge in the return fixture, further losses to England and Hungary confirmed their struggles. Modric managed a lone assist in international matches following the World Cup. Even at his peak powers, he seldom records goals and assists, but the mark remains subpar nevertheless.
He can't use his age as an excuse. At 33, he is nestled between Ronaldo and Messi who still do not relent despite being deposed. Fabio Cannavaro won his Ballon d'Or at 33. Fans are never ones for rationality. While it is ridiculous to expect those who follow Ronaldo and Messi into Ballon d'Or lore to maintain the same levels and consistency as the living legends and while Modric relies heavily on the excellence of teammates, Modric's struggles in 2018/19 do nothing to confirm his merit for the award.
Messi surpassed 40 goals in all competitions for the tenth consecutive season. Ronaldo has 25 goals and 12 assists for Juventus this term. After a sluggish group stage produced a single goal, the Portuguese awoke in the knockout rounds. He now has five for the tournament. He and Messi are on a collision course for the final if their teams can win out. It's almost certain a sixth turn on the podium awaits one or the other.
That is the new reality. Winning the Ballon d'Or isn't all; you must prove you're worthy of the crown.