Is Mario Balotelli the Jose Mourinho of players?
Background photo: Remi Mathis, CC-BY-SA 3.0
It's interesting to note that Mario Balotelli didn't become so popular until Jose Mourinho arrived at Inter Milan in June 2008. Not long after, player and coach weren't seeing eye-to-eye. One had to make way. So began Balo's long, strange journey.
Physics tells us two objects of like charges repel each other. It's perhaps why Mourinho described Balotelli as "unmanageable" in 2009 before throwing him under the bus. They haven't crossed paths since, not even as opponents. However, shenanigans trail both personalities like breadcrumbs leading to the same house in the woods. Neither is bewitched, though, just plagued by the same demons.
Ironically, Mourinho's 49-strong list of youth players who attained limelight under his tutelage features Balotelli, remembering him fondly. According to the Portuguese, he gave the teenage Italian striker 70 games over two seasons. Balotelli was no Kylian Mbappe. Sporadic, he never scored more than 11 goals per season. But he did win the Champions League, Coppa Italia and multiple Serie A titles. Sadly, chalices weren't enough to smooth the relationship between the Special One and Super Mario. Mourinho must've heaved a big sigh of relief when Roberto Mancini brought Balo to Manchester City. Today, players do the same when Mourinho departs a football club.
Careless Mario
If you followed football for the last decade, it's impossible not to have heard a Balotelli story. Driving his Ferrari up to a women's prison and requesting a tour. Throwing darts at the City youth team. The 'Why always me?' t-shirt. The man knows how to get in the news and stay there. Usually for the wrong reasons.
During his time in the Premier League, the English media didn't want for material. There was simply no ceiling with Super Mario. Even when he wasn't playing regularly for Liverpool, he still managed to make headlines with his antics on social media even after he was fined and banned for posting a racially offensive image on Instagram.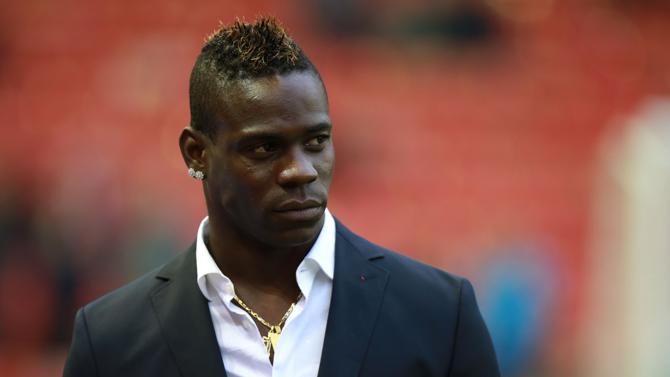 Some tools are tried and true. Balotelli recently made news for celebrating a Marseille goal with his teammates live on Instagram. Francesco Totti would be proud.
Balotelli just doesn't care. What matters to the former Manchester City striker? Certainly, not your happiness. Nor the media's happiness. Nor anyone else. Only Balotelli matters to Balotelli. Guess who else behaves that way? You got it, Jose Mourinho.
Mourinho is by no means the most easy-going, placative manager around. The former and possibly future Real Madrid boss speaks his mind. He taunts fans, humiliates players, embarrasses referees, lectures reporters and more. Remember how he treated Chelsea physio Eva Carneiro? Here's another man continually making headlines for the wrong reasons. One has a brilliant foot, the other an astute mind. It isn't enough for either.
How long for Marseille?
After fighting with manager Patrick Vieira at Nice, Balotelli transferred to Marseille where he's again flashing brilliance.
Balo ranks among the best strikers in the world when he commits himself to football. He is Zlatan Ibrahimovic with the wrong priorities. Balotelli is just as arrogant as the Swede but Ibra's laser-focus on fitness, hitting the mark and developing his football brought him countless titles and more than 500 goals. Fans are always unhappy to see him leave their club.
At Marseille, Balotelli scored four goals in his first six Ligue 1 games, including the sublime overhead kick featured on Instagram. Marseille can expect him to score more brilliant goals. He always does.
OM must guard against the baggage he brings, however. The 28-year-old plateaus during his second or third season at every club. It began during his time at Inter then trailed him to Manchester City, Milan and Liverpool. He scored 43 goals for Nice before falling out with Patrick Vieira. You can set your watch by Mourinho as well. The question is whether Marseille thinks they can break the string or are just planning to enjoy the ride while it lasts?