It is all about the relegation in the final week of the Bundesliga season!
The title is already decided, just a squabble about positions 5/6/7 at the top. It is all eyes on Bremen vs Frankfurt this weekend as Mark Dannell pulls out his predictions for the action for the final time this season.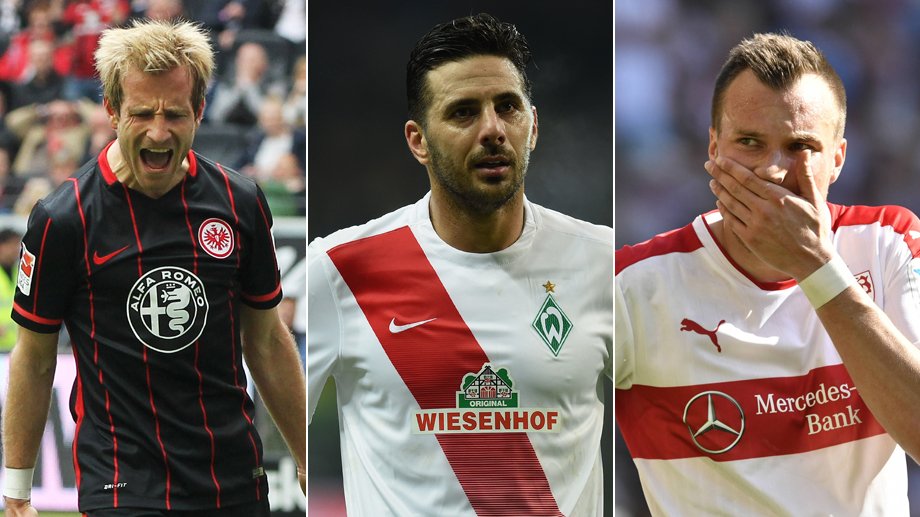 SV Werder Bremen vs Eintracht Frankfurt


There is no other place to start today than this game. A draw will see both teams remain in the Bundesliga (for now) with Werder contesting the relegation/promotion play-off against 1. FC Nürnberg of the 2. Bundesliga. Neither team will fancy that prospect; I don't expect a pedestrian draw. Frankfurt have been on a brilliant run although quite how they managed to get the win against Dortmund last week is still beyond me.

Werder have been doing just enough to keep their heads above water but they are not impressive at home with just 4 wins all season. As always the pressure will be resting on shoulders of legend Claudio Pizarro. His 15th goal of the season would be very welcome!

Prediction–  Draw. I said it won't be pedestrian, but a thrilling draw is likely!


VfL Wolfsburg vs VfB Stuttgart


Stuttgart have to win, or they are down for the first time since 1975. In truth they have been shuffling quietly towards the exit, 2 points in 8 games normally precipitates a call to one H. J Redknapp. If they could pick anyone to be playing needing a win on the last day though, Wolfsburg would be high on that list.

With nothing to play for, Dieter Hecking's men find themselves on a rotten run. However, they did pick up a win against equally rotten Hamburg last time and will surely want to go out on a high. Sorry Stuttgart but it's 2. Bundesliga football for you next year.

Prediction–  Home Win.


1.FSV Mainz 05 vs Hertha BSC


A mildly interesting direct scrap, 5th vs 6th. The winner will finish 5th, the loser likely 7th and have to qualify for the Europa League. With both teams collapsing towards the finish line the marginally better form of Mainz who won last week at Stuttgart will probably be enough to ensure the 5th spot.

To illustrate the awful end to the season, especially Hertha, here a few graphics:

Table Game Week 26 after Hertha beat Schalke

Table Game Week 33 after losing to Darmstadt

Still a result of European Qualification is not to be sniffed at and Hertha will look to build over the summer to contend again.

Prediction–

Home Win.
1899 TSG Hoffenheim vs Schalke 04
Schalke are the last team in the little three-way for the coveted Europa League spots. With at least a playoff place assured they will be hoping for a draw in Mainz coupled with a win for themselves which would lift them to the heady heights of 5th!
Despite losing to Hannover last time out, Hoffenheim were assured of safety with other results going their way. Game week 25 saw them 17th, 10 points behind Stuttgart. 8 games later they are 14th, 5 points ahead of Stuttgart. Huge credit to Julian Nagelsmann who will be relishing the chance to get a preseason in and perhaps a few new players. Hoffenheim are strong at home so Schalke might have to settle for the point.
Prediction– 
Draw
FC Bayern vs Hannover 96
The party will be at the Allianz Arena, not least as they will finally be able to hold their beer-soaked celebration! Despite sealing the title last week the celebrations were somewhat muted as Ingolstadt's beer sponsor refused to allow a rival brand onto their turf. Of course, Bayern could not snub their beer sponsor either so the Paulaner shower has had to wait.
That bit of news is probably more exciting than any news I can give you on the game, Hannover were relegated a couple weeks ago and a regulation 3 goal win will no doubt be sealed in Munich. Expect Robert Lewandowski to notch and become the first man in 39 years to score 30 in a Bundesliga season.
Prediction– 
Home Win
Borussia Dortmund vs 1.FC Köln
Nothing to play for here either in what will be Mats Hummel's final home game on Dortmund turf. Expect a relatively weak line up from Dortmund with the cup final to come against Bayern next weekend. Dortmund have had a brilliant first season with Thomas Tuchel and few would begrudge them spoiling Pep's final game in charge next week. With Bayern once again snapping up their best player the challenge will be to seamlessly replace him.
Köln have also had an excellent season. Peter Stöger will need to add some firepower to back up Anthony Modeste next year the Frenchman has had a good season with 14 goals but a long drought was not able to be filled with only Simon Zoller going above 5 goals for the season from the rest of the squad.
Prediction– 
Home Win
FC Augsburg vs Hamburger SV
Expect Hamburg to turn up with their flip flops and beach towels under their arms. They are an infuriating bunch as I have mentioned on these pages before, and with safety assured hey might well be booked on a flight tomorrow morning.
Augsburg have done well to survive after having a mid-season hiccup and will now have to wait and see what happens with Markus Weinzierl, long linked as the new Schalke coach. With the lure of European football and the significant budget increase on off that seems a deal likely to happen. On the pitch, Augsburg should have no problems rolling over Hamburg but those familiar with the column will know that you should avoid betting on or against Hamburg at all costs.
Prediction– 
Home Win
SV Darmstadt 98 vs Borussia Mönchengladbach
A point here will mathematically seal the Champions League qualifying spot for BMG. I said weeks ago that Andre Schubert needed to find a cure to the away day woes in order to have a better run at things next season but ultimately a return of 13 wins from their 17 home games has seen them over the line.
With safety assured for Darmstadt, thoughts will now to turn to next season and how they can build on this impressive run. Keeping hold of Sandro Wagner will be high on that list but also very difficult. Unfortunately, he is suspended today after an "emotional" red card at Hertha last week.
Prediction– 
Draw
Bayer 04 Leverkusen vs FC Ingolstadt 04
Seven wins in a row came to a juddering halt last week away at Mönchengladbach but there is no shame in that. Bayer have had a storming end to the season, and if they hadn't been so far adrift they might even have been able to challenge for 2nd place. Nevertheless, with news that Bernd Leno has decided to stay another season they will be positive for the next.
Ingolstadt will be very satisfied with their season and will be looking forward to the next. They have not been convincing on the road however and at least a two goal win for Leverkusen looks certain here.
Prediction– 
Home Win



Feel free to post your predictions below.



It really was a terrible week last week. 2/9 predictions and no bets in. I am going for a couple of long odds bets this week.



A 3 way on draws between Werder/Frankfurt, Hoffenheim/Schalke and Darmstadt/BMG is available at almost 50/1 on Tipico and I am having a fiver on that.



With no massive value to be had in the combi markets I am looking at Javier Hernandez to score at least  twice and Leverkusen to win at combined slip odds of 4/1 against Ingolstadt for my 2nd fiver.