Is every Manchester United fan a Glazer?
Background image:Rudy, Peter Skitterians
If you're not up on your club history, Manchester United exists today because a man known as John Henry [Davies] purchased it in 1902, 60 days after a winding-up order was issued to collect debts from the bankrupt team then called Newton Heath. He changed the club's name, colours and, eight years later, the ground, moving the side from Bank Street to Old Trafford. His rescue paved the way for a former Manchester City and Liverpool player named Matt Busby to take the manager's job nearly a half-century later. Such are the ironies inherent in becoming a raving Red Devils supporter.
But they don't stop there. John Henry Davies made his fortune in the brewing industry. A self-made man, he owned or held an interest in more than one brewery, a bottling company and several pubs when he purchased United with two partners. That said, he also married into a wealthy family and used that money to further his business holdings. Leveraging, aka spending other people's money as though it was your own, wasn't a foreign concept to the man.
A century after the brewing magnate put the club on the path to glory, an American family purchased the team with the intent to take it to yet another level. The sale was a leveraged deal that made United a global force in the game at the cost of servicing the loans that financed Malcolm Glazer and sons' ownership.
United fans weren't pleased. In addition to the debt, the family's foreign status rankled.
One group broke their allegiance to the team to start their own side, FC United of Manchester. At present, the new club competes in the National League North, two tiers below the Football League. Surprisingly, their twitter traffic isn't all that different from their old club's, save for the number of zeroes.
Fans reluctant to leave took to wearing Newton Heath colours to protest the Glazers' plan to transform the side into a cash cow. Either the fact Newton Heath had entered administration escaped them or they would rather see the club bankrupt than foreign owners spending other people's money to control 'their' club.
The truth is that it's not their club in the proprietal sense. The so-called socio model, in which supporters own a majority share in a club, is a rare occurrence in the game. More often than not, someone else owns the team, be it wealthy investors or corporations. Fans like to think of them as caretakers or found money. They form supporters' trusts to advise these temporary revenue streams on just where the flow should be directed. It's leveraged financing by people who can only wish they had more money than God.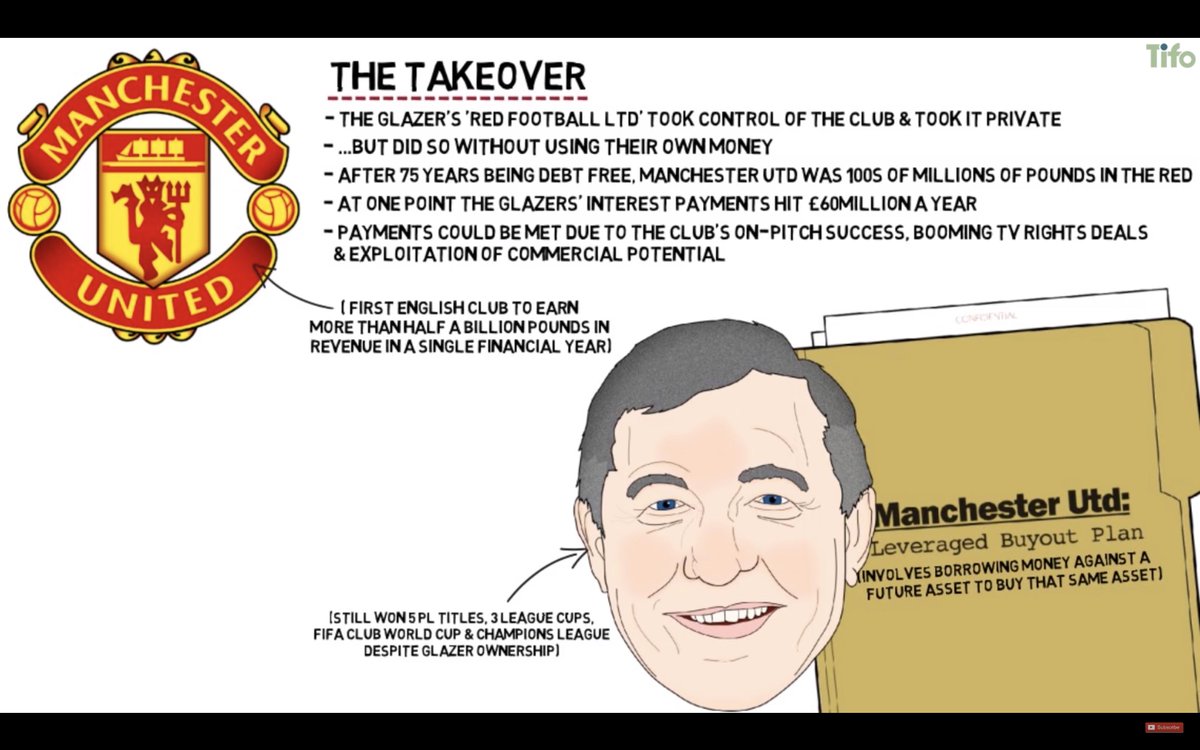 🇾🇪When purchasing Manchester United for ~£800M, the Glazers used an LBO.
💬"The purpose of leveraged buyouts is to allow companies to make large acquisitions without having to commit a lot of capital."
They invested none of their own money yet benefitted all the same. #
MUFC
https://t.co/LfURYaKygq
In essence, United supporters are no different in their fundamental operational mode than the Glazers except for the number of rooms in their houses, and not just because every mortgage, big or small, is a leveraged buyout. On the one hand, that's a good thing. On the other, it's very, very bad.
In the game's formative days, clubs were formed by locals. The wealthiest enthusiasts would lead the way but encouraged supporters to invest, which is how socios were born. The model was largely successful when the squad was comprised solely of local lads. Winning was the goal, losing only a minor disappointment. No one would ever hang their neighbours' sons out to dry the way the Stretford End abused Paul Pogba after United's season-ending defeat to Cardiff.
When professionalism appeared and soon became the norm, fans were suddenly free to hurl abuse at imported players while the original Marcus Rashfords and Jesse Lingards, now reduced to mascot status more often than not, retained immunity. With the advent of social media, ugliness isn't only witnessed in the stands. Hatred and prejudice are freely expressed online. United supporters don't hesitate to demand that the Glazers, Pogba and just about every player in the squad get out of 'their' club. They welcomed club legend Ole Gunnar Solskjaer's appointment when he was winning. When reality caught up to the Norwegian, the knives came out.
Football is supposed to be the beautiful game. Instead, it's become a platform from which to express hatred and frustration with our lot.
The real owners can do no right. When they first purchased the team and attended matches, their unwelcome status was expressed with visceral clarity. Now they're criticized for hiding away in their Palm Beach mansions.
When Sir Alex Ferguson retired, the Glazers took stick for draining the club dry with nepotism payments while not spending enough on players. Since the Scot departed, the club has invested £895.6 million in transfers [Transfermarkt].
When Jose Mourinho frittered away nearly half that sum, the call rose to promote youth players and buy British talent. Now that Ole Gunnar Solskjaer is doing just that, we're back to demanding more money for proven stars.
Such inconsistency is why socios were phased out and truly ruthless, uncaring people who actually know how to make money moved into the game.
Admittedly, the Glazers are far from perfect at balancing winning with the bottom line. Agreeing to pay Alexis Sanchez a reported £450,000/week was hatchetman Ed Woodward's biggest mistake of many. Now players who contribute to the club's limited success, from David de Gea to Pogba to Ander Herrera, clamour for similar compensation and fans resent them for it. Supporters interested solely in trophies might conclude the Glazers' biggest mistake is paying Woodward an estimated £4 million/year. The profits keep coming, however.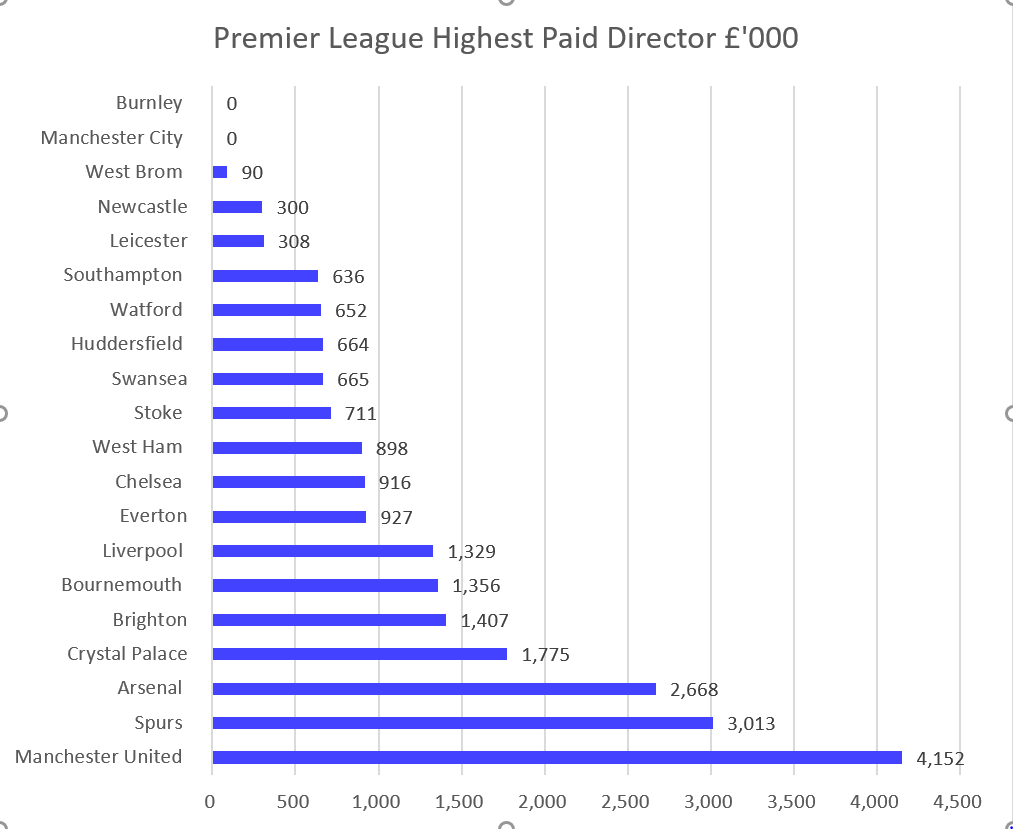 Manchester United top the table for the highest paid director in the Premier League, with Ed Woodward earning just over £4 million. Not sure whether or not he's planning to celebrate the achievement with an open top bus parade around Strefford though #
MUFC
https://t.co/s8a92O6Po4
Those same supporters claim it's their money that fuels the team. Therefore, they're nothing like the Glazers who spend other people's money.
The problem with that bit of denial is there is no solidarity among United fans. If a Red Devil from Mumbai or Miami pipes up that Pogba's numbers make his critics look ridiculous, some season-ticket holder will shout them down, telling them they don't go to the games and can't see how the Frenchman just stands around when he doesn't have the ball. Another mug from Lagos will butt in to say the real problem is Smalling and Jones. Some bloke from Clonmel claims they first need a proper right-winger.
Forget for the moment the long-distance fan watching on the telly or internet sees instant replays and various angles that the bloke in the seats misses. Forget that the BBC published a report last year that 11 of the 20 teams from the 2015/16 season would have made a profit without selling tickets, illustrating how little we contribute as individuals to the Glazers' pot, including the Manc lucky enough to be born and raised in Gorse Hill, Ordsall or Stretford. The fact is each and every one of us want something different for the club and expect everyone else to agree with our master plan.
However you cut it, we all want to be a Glazer, spending someone else's money.