Raul Jimenez: Wolves' big-game player worth his weight in gold
Background Image Via: Geograph/Paul Reid. Used under Creative Commons.
Wolverhampton Wanderers fans are in dreamland. Their beloved club is back in the big time. Not only are they well clear of relegation in their first season back in the Premier League, they're sitting in the top half only looking upwards.
For that, Wolves owe an awful lot to their big-spending owners and manager with the adequate pull to attract marquee players to Molineux. Ruben Neves kickstarted things almost two summers ago now. The Midlands club hasn't looked back.
Amongst their 2018/19 signings was Raul Jimenez, a 27-year-old striker who had played for both Atletico Madrid and SL Benfica. Talk about setting a high standard right from the off. Although initially a loan deal, Wolves have since exercised their option to sign the Mexican permanently. The £35million transfer fee is a drop in the ocean for a player of his calibre. To be honest, he's probably already outweighed the price-tag placed on his head.
Wolves' return to the top tier in England has been well-documented largely due to their performances when playing against the Premier League's elite. Points have been taken from Manchester United, Manchester City, Tottenham Hotspur, Chelsea and Arsenal. The Wanderers still have to play Arsenal again while travelling away to Liverpool. Honestly, I wouldn't be surprised to see Wolves pick up points in at least one of those two fixtures. Let's not forget that Espirito Santo's men knocked both Liverpool and Manchester United out of the FA Cup, too.
What does that have to do with Jimenez you ask? Well, he scored against both United and Liverpool in Wolves' FA Cup triumphs, but what's even more impressive is his record in the Premier League against the big guns. The Mexican has mustered four goals and four assists in those ten games. By anyone's metrics, that's mightily impressive.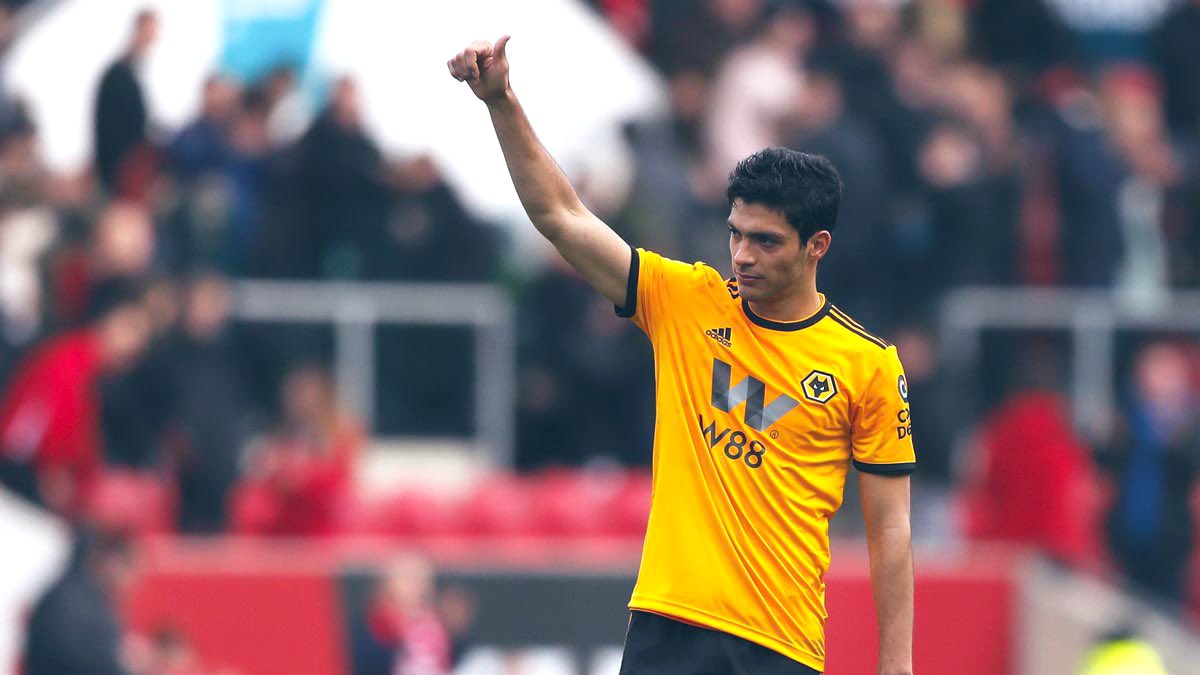 🗣 Raul Jimenez on Wolves
"This was my opportunity"
"This was the thing I was looking for, since four years ago. Now I have it I'm not going to let it go. I want it all and I think that makes me do the things I'm doing." [E&S]
#WWFC #
TalkingWolves
https://t.co/LaWOskFL0V
It's one thing scoring against relegation fodder like Huddersfield Town and Fulham. I believe the term is 'stat padding', something Romelu Lukaku has often been accused of... No such criticism can be aimed at Jimenez. Almost half of his goal contributions have come against the best of the best. He truly does step up when his team needs him the most.
The main thing for a striker is goals. If you can hit the back of the net with regularity then you'll always find a team who needs your services. Jimenez is much more than that, though. I'd argue to say he's up there amongst the most complete forwards in the country. You look at the ability to hold the ball up, that's second-to-none in terms of Premier League forwards. The 27-year-old also has underrated vision. He can pick out a pass and execute it. That unselfishness in top-level strikers is a rare commodity. I liken him to Roberto Firmino in that regard.
Basically, I think Jimenez deserves more credit. A case can be made that he should be amongst the frontrunners to win the PFA Player of the Year Award. Perhaps that's a step too far but he'd be in my top six in terms of performances for this season. He has been sensational and it's truly a pleasure watching him play.
I guess the only issue is the fact that other teams may come calling if Jimenez keeps up this spectacular form. The ball is firmly in Wolves' court, though, Jimenez is under contract for the foreseeable future and it's not like the owners need the money. Who knows, if Wolves can keep on this insane climb up the English football pyramid, he may never want to leave Molineux!