The day the Ballon d'Or died
And while Lennon read a book on Marx
The quartet practiced in the park
And we sang dirges in the dark
The day the music died
There's no American pie at the World Cup in Russia. The United States failed to qualify. Nonetheless, Don McLean's ballad immediately sprang to mind after the two best players in the world were eliminated from the World Cup on Saturday.
Football has proven timeless. A player's time, however? That's very limited. Lionel Messi and Cristiano Ronaldo have used theirs better than anyone else in their generation. But is it their generation anymore?
Much is being made about Germany, Argentina, Portugal and Spain's ouster so early in the tournament. All four are technically superior sides. None valued players who could run at defenders. Leroy Sane was left home by Jogi Low. Jorge Sampaoli used Sergio Aguero sparingly and Messi, during the group stage, more as a decoy. Fernando Santos elected not to start Ricardo Quaresma against Uruguay, allowing La Celeste to focus entirely on Cristiano Ronaldo. Fernando Hierro threw Rodrigo on in extra time against Russia but it was too little too late.
Both Messi and Ronaldo still enjoy taking on opponents. Neither has the pace they once had. They can do damage, and likely will in the next two or three seasons, but it's questionable whether either can reach Qatar in 2022. They will have to continue adapting their games or call it a day.
Ronaldo will be 37 in four years. He has already said he intends to play into his 40s, but does that include for Portugal? He has shown leadership qualities in Russia that any manager would value. If he can maintain his fitness, who can rule him out? He still plays at a level perhaps only two or three players can match.
Messi is two years younger than his rival and hasn't shown the same will to lead. To be fair, he faces far more pressure with Argentina than Ronaldo does with Portugal. Yet because he has not answered that pressure, more questions will be asked about his future. It's not difficult to imagine the Selecao welcoming their man's continued presence if he feels able. It's even easier to believe La Albiceleste will be reluctant to play the Messi hand again. It's never looked like a winner.
There is one scenario in which Argentina might find itself willing to take the risk again. That's if the Maestro continues to explore a role as a central midfielder. Manuel Lanzini and Ever Banega had been Argentina's only options in that role in Russia. Lanzini was injured just before the competition. Banega was positive at times, invisible at others. When he was ineffective in the first half against France, Sampaoli finally put Messi in the role.
I say finally because I had suggested it during their struggles in CONMEBOL qualifying. The logic was simple. Argentina lacked playmakers but were overflowing with scoring talent [Messi, Aguero, Di Maria, Gonzalo Higuain, Paulo Dybala, Mauro Icardi, etc]. If Messi were injured, Argentina would still be a dangerous attacking force. With Lanzini injured, they were fighting with one arm. Since Messi was healthy and the most-skilled dribbler and playmaker in the side, why not put him in the number eight role?
No, it hadn't really worked for Wayne Rooney, but Wazza is not Lionel Messi, and, more importantly, Messi is not Wazza. Argentina made some inroads with Messi pulling the strings. When Aguero was thrown into the fray, sadly too late, it paid dividends.
As he ages, Messi will naturally lose some quickness. It isn't a stretch to see him adapting to a new role at Barcelona. If he has success as a playmaker at the Nou Camp, Argentina might be willing to give it a shot, as well.
Of course, if Leo drops into a supporting role, his scoring will suffer. In turn, that will likely mean he will fade from the Ballon d'Or picture. Ronaldo's numbers will drop, as well. It won't be due to a positional change. Rather his playing time will be gradually curtailed to keep him at optimal productivity.
More players will enter the picture. Kylian Mbappe offered promise with his second-half display on Saturday, and there will be others. The obvious candidate is Neymar but, like Messi, he has struggled when the spotlight reaches peak intensity. Philippe Coutinho, however, has shone.
Even though neither Messi nor Ronaldo was able to score in the knockout round [the Argentine did pad his assist total against France], both could still appear on the dais for this year's Ballon d'Or ceremony. One might even win it, although their candidacies are no longer so airtight as in previous campaigns.
Their exits have opened the door for Neymar and Mbappe to make their cases. Even Luka Modric if he puts Kasper Schmeichel out of his mind, and everyone else's, by leading Croatia to World Cup glory. Some Englishman looking over my shoulder is warning me not to rule out Harry Kane in the same circumstances.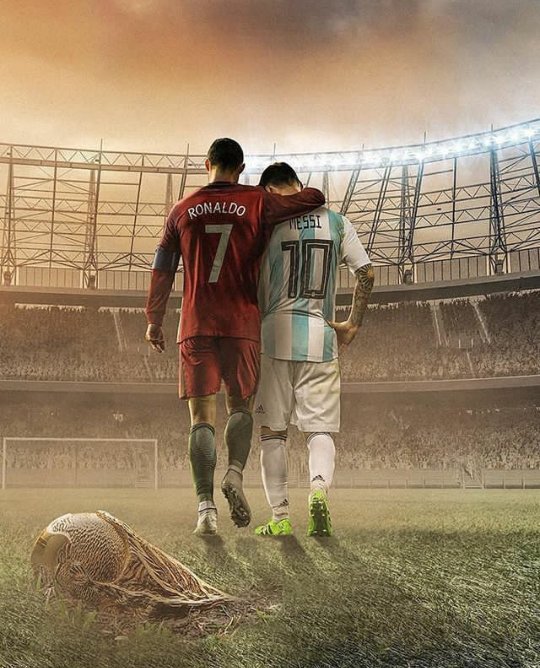 The point is Ronaldo and Messi's failure to advance deep into the tournament has opened the award to all comers. In future years, we are almost guaranteed to see new winners annually. Some may think that a good thing. Greater competition. More diversity. Less predictability. What's the saying? The more, the merrier?
Fair enough, but there's another side to that conviviality. It diminishes the award.
How can it not? When two players dominate the honour for a decade, standing head and shoulders above the competition, even when one is a generous 5' 7", they attain godlike status and so does the Ballon d'Or. When anyone can win it, and does, it's merely mortal again.
And what is mortality but death? Messi and Ronaldo's time is ending, and a golden age of football with it. We should pause just a moment to remember.