How will Borussia Dortmund spend their summer?
Borussia Dortmund's season didn't end with the expected Euphoria. Bayern Munich snatched away the Bundesliga crown, ending Lucien Favre's impressive debut season in frustration. That being said, it has never been in their spirit to give up. To break the wheel of command in German football, evolution is necessary.
To their credit, Dortmund have started their transfer business in lighting fashion. As most European sides remain hungover from the end of the campaign, Die Borussen's wasted little time in roping in their targets. They've been smart about it as well. From the £54million they received for Christian Pulisic, they signed up two bright young stars Thorgan Hazard and Julian Brandt. Moreover, Der BVB still has £9million to spare. Michael Zorc is truly a national treasure.
That being said, their summer business isn't over. They've taken part in a marathon, not a 100-metre sprint. Before their star signings, Die Borussen secured versatile national star Nick Schulz's services. The 25-year-old brought in to solve a stern left-back crisis. The utility player also holds the cards to operate as a left-midfielder or a centre-midfielder if needed.
Schulz' signing pin-pointed their shrewd tactics. Hoffenheim received an £18million fee, meaning The Black and Yellow's net spent stands at a mere £9million. Their budget isn't the highest. They aren't Bayern Munich to extract the highest television revenue nor as much from sponsors. However, smart additions so far allow them to invest more in improving their struggling defence.
In reality, the superstar signings are sugarcoating their real problems. Dortmund never had problems dealing with goals or playing attractive football last season. Hazard and Brandt's stunning inclusions just temporarily glued over the cracks. Lucien Favre's real headache lies in his wobbly back line. Shocking, error-prone defensive frailties, without having that on-field leader, is to blame for their post-winter meltdown.
Now, someone like Matthijs de Ligt is probably beyond their reach. Their transfer budget isn't flexible enough to afford the Dutch sensation. However, a 29-year-old Toby Alderwiereld can fix their defensive problems. He's reached Europe's pinnacle with Tottenham Hotspur, doubling his healthy experience. The Belgian is a composed figure more than able to lead a defensive line. Alderweireld can accelerate Manuel Akanji and Abdou Diallo's progress. His intelligent, defensive knowledge mixed with commanding ability can bring positive results from the get-go.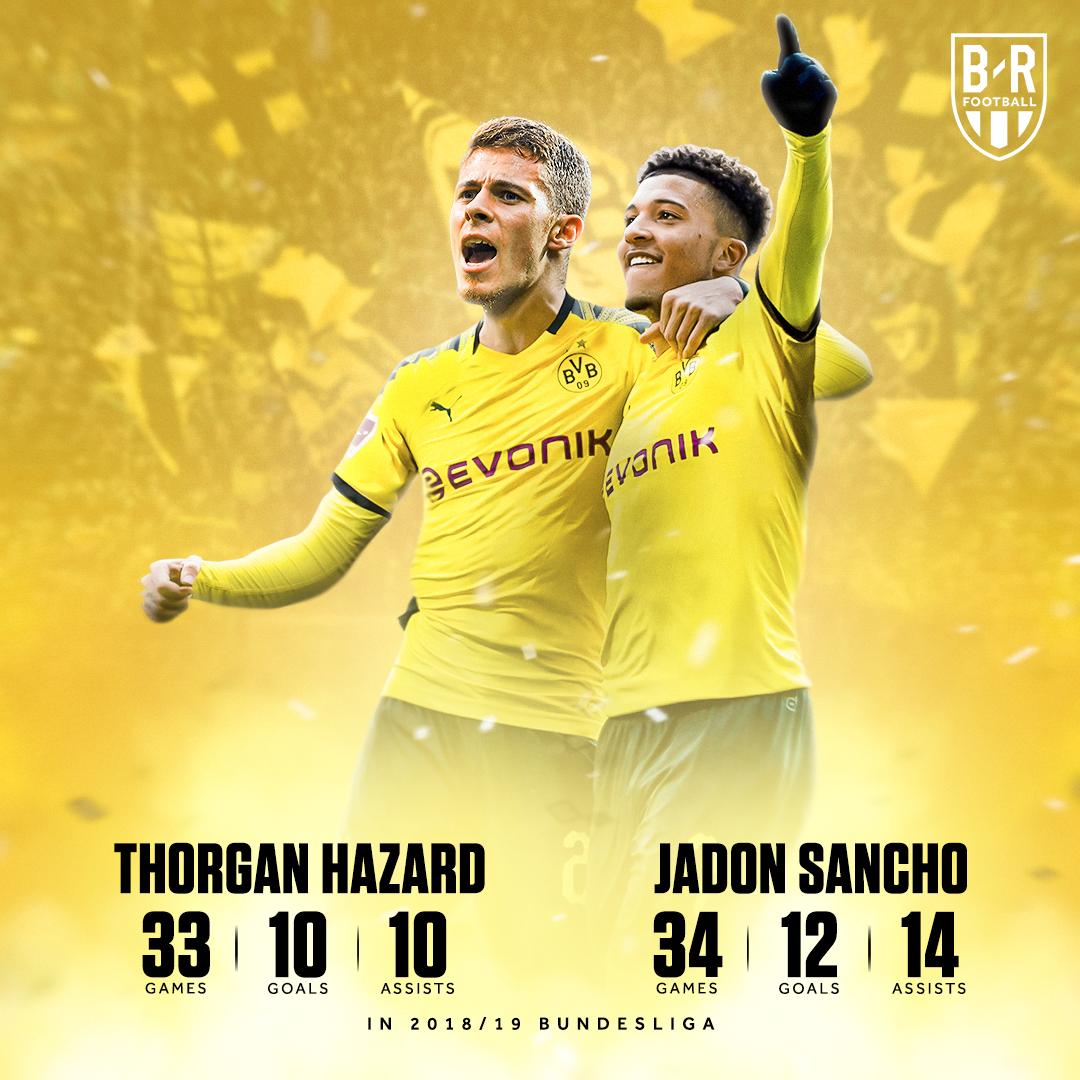 Borussia Dortmund now have the only two players to score AND assist 10+ goals in the Bundesliga last season ⭐⭐
https://t.co/k7wYRvZfHM
Moreover, Dortmund's also looking for a backup striker to Paco Alcacer. Mario Gotze often featured as a false number nine last season. The Spaniard's considered more as a super-sub. Favre's eyed Everton's Cenk Tosun for the role. The physical Turkish striker's surprising pace along with excellent link-up play can bring crisp to their attacking system.
Der BVB also pushes on for a backup goalkeeper. German U-21 stopper Markus Schubert is a possible long-term star being targeted. Yet a quintessential signing The Black and Yellows hope for is to bring back Achraf Hakimi. The young sensation was a breath of fresh air in defence, moving forward with vigour and also holding his own against unpredictable wingers.
To make sustainable profits in spite of these star signings, Die Borussen needs to sell players. Jadon Sancho possibly will be the big departure. Manchester United want to make the English winger their next superstar. They're ready to pay big and if Sancho agrees, Zorc won't say no. The 19-year-old's departure could earn them a huge profit. They won't be as devastated to lose him thanks to strong reinforcements.
Moreover, Diallo's also on Paris Saint-Germain's radar. If the French champions persist their chase, the Frenchman won't hesitate to return home. Marcel Schmelzer's also surplus to requirements following Schulz's addition. Despite the emotional connection, The Black and Yellows won't hold the 31-year-old hostage; allowing him to top off his career somewhere else.
The summer will get only busier at Dortmund. With the attacking core strengthened, Favre needs to stabilise his wobbly defence. A few sacrifices are necessary for bigger reinforcements. The price for competing against high-up forces a no-holds-barred approach to build a more complete squad required to break Bayern's despotic rule.