Should Atletico Madrid call time on Diego Simeone?
When it's derby day, form is always not a factor in who wins the games as everything is on the line to ensure that the bragging rights at yours.
Real Madrid ensured that they'd be the ones celebrating with a comfortable 3-1 victory on the road. It wasn't that far in the past that Atletico Madrid were flourishing under Diego Simeone's tutelage. Just a few years ago, they were going toe-to-toe with Europe's best week-in-week-out.
However, recent events at the club have suggested that the manager and his team are not at that level they once were when they won the league and also made two Champions League finals over a three year period. This current Atleti side seems lethargic and lacking in their usual energy, intensity and organisation. The failure to do the basics has led all fingers to be pointed at their Argentine coach.
A peek into what Atletico used to be gives a better understanding. Los Rojiblancos were a well-known side in Spain. That's attributed largely to the fact they were based in the Spanish capital and boasted a hugely loyal following. However, before Simeone arrived, trophies weren't being won. It was he who changed their mentality, winning their first top-flight title in almost two decades.
Breaking the FC Barcelona and Real Madrid duopoly was never going to be easy. Atletico never had the financial clout that the others had, instead, Simeone did it his way. Hard work, guts, determination and defensive organisation. It led to trophies being delivered over an excellent three-year stint.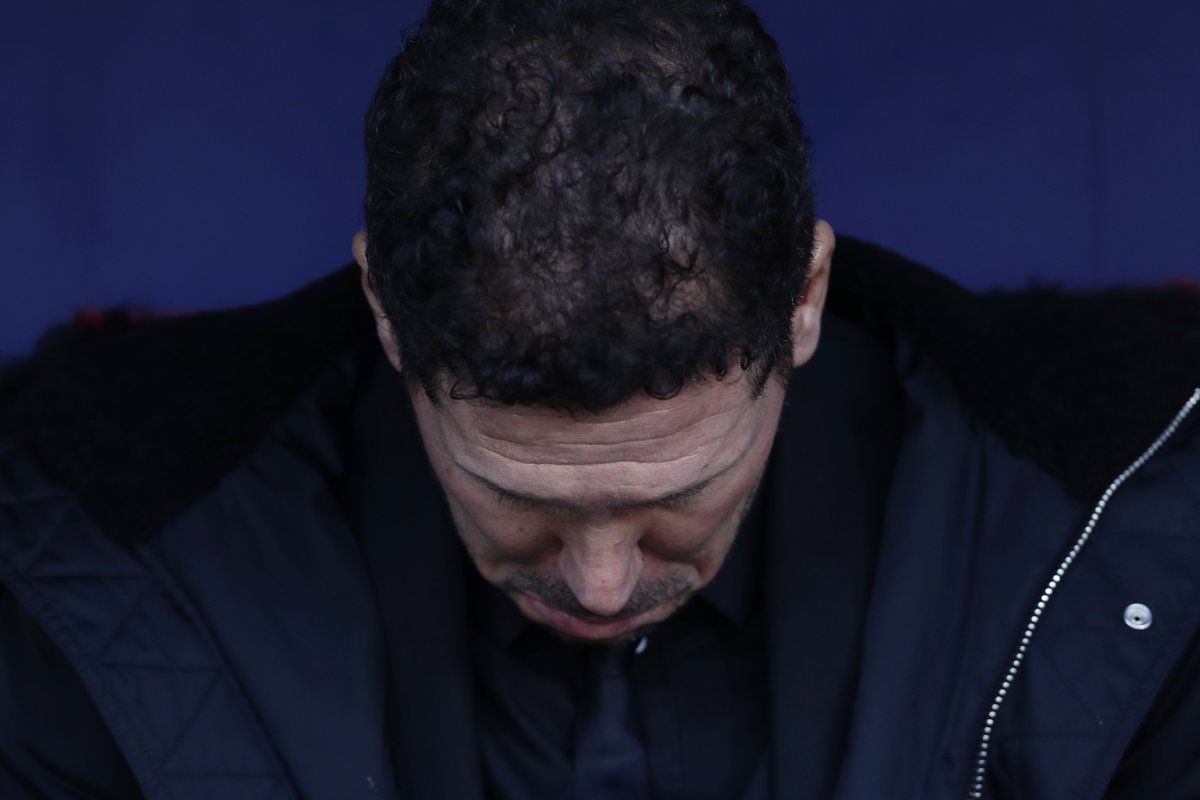 Diego Simeone refuses to blame VAR for Atletico's 1-3 defeat against #
RealMadrid
.
"I do not usually talk about the VAR. It will clearly improve for the good of everyone. I absolutely do not believe that we have lost because of VAR." #
MadridDerby
https://t.co/QwKu5iKHq9
The Copa Del Rey was won in 2013. Atletico followed that up with a historic La Liga title twelve months later. They were ready to move out of Real Madrid's shadow. After a few years in which the Spanish club remained stagnant, a Europa League trophy was added just last season.
This term, things have been different. It's true to say that all Spain's big clubs have had poor spells this term, but Real Madrid showed that they are still a class above Atletico even though Los Blancos are still trying to find their identity since Cristiano Ronaldo's departure.
It just seems as though Simeone has hit a roadblock in regards to how far he can take Atletico. It's tough when you're not given the financial backing that is needed to compete, and there is always the likelihood that your top players will want to move elsewhere for an even bigger payday.
That begs the question as to whether it's best for Atletico and Simeone to part ways. The Copa Del Rey loss to Girona hurt, while once again, they sit behind both FC Barcelona and Real Madrid in the title race and having drawn Juventus in the Champions League, that's going to be tough.
It isn't to say that Simeone has done a bad job at Madrid. In fact, it's the opposite. Sometimes, things just dry up and there is only so much one can do when he has one hand tied behind his back. The poor results are starting to come and maybe a change is needed. It's better to do so sooner rather than waiting until things go from bad to worse - thus ruining Simeone's reputation in the process.