The hole in the middle of Southgate's England squad
Image Via Wonker/WikimediaCommons. CC BY 4.0.
What is it about England and semi-finals, eh? The Three Lions had the opportunity to end their last four hoodoo in the UEFA Nations League last night, but once again, after starting well, England predictably handed it to their opponents on a plate. As it turns out, it's still not coming home...
In the end, the Netherlands were worthy winners. John Stones' high-profile error in extra-time proved to be pivotal. No doubt he'll be getting pelters on today's back pages. However, for me, it's England's midfield that remains to be the underlying issue.
Gareth Southgate started with Declan Rice, Fabian Delph and Ross Barkley as the midfield triumvirate. Just seeing those names in the line-up brings an immediate cause for concern, but when you look across the park and see Frenkie de Jong and Georginio Wijnaldum staring back, well, let's just say you're always fighting a losing battle.
Wars are won in the trenches, football matches are won in the engine room. Gain midfield control and your odds at being triumphant increase dramatically. England couldn't get a foothold on the ball, mostly bypassing the middle of the park and playing it long - using Marcus Rashford's pace to run in behind, or Harry Kane's ability to hold the play up and bring others into the game. Neither really worked to great effect. Southgate needs players who are composed in possession while having an eye for a pass. It's why I was surprised to see James Maddison get snubbed as he could have made all the difference, but that's a debate for another day entirely... Or maybe De Jong has an English relative somewhere down the line and we can pinch him like Gordon Bombay stole Adam Banks in the Disney classic, The Mighty Ducks... Ah, I do love a good sports film.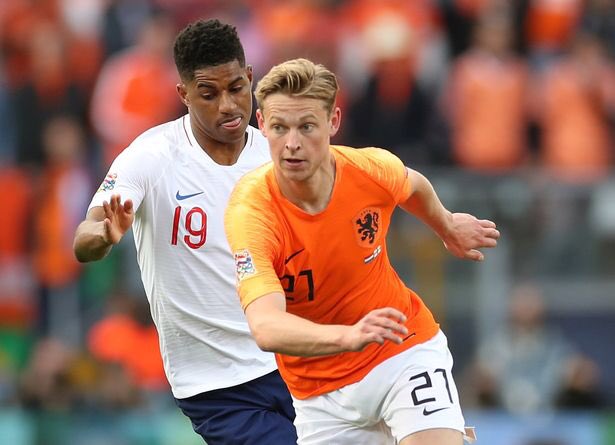 Frenkie de Jong showed England what they're missing.
Not the Premier League clubs who will look on this summer with jealously as the 22-year-old completes his £75million move from Ajax to Barcelona, ready to marshal the Catalans' midfield for the next decade, but the Three Lions
https://t.co/VpmfpgzAJq
This isn't a new problem either, by the way. Just twelve months ago, Croatia and Belgium gave England a similar runaround in the World Cup semi-final and third-place play-off respectively. It feels as though since the 'Golden Generation' trio of Frank Lampard, Steven Gerrard and Paul Scholes retired, the Three Lions have struggled to find that elite level midfielder who can grab the game by the scruff of its neck and put England on the front-foot.
Things changed somewhat when Jordan Henderson was introduced midway through the second half as he brought some energy, desire and drive to the table, but again, England still needs more. They need to find Henderson's high-level partner, preferably someone who has the on-ball ability to dictate the tempo and pick the right passes. The aforementioned Maddison would have been perfect, or even a Harry Winks is an improvement. Credit to my colleague, Danny Glendenning, for calling that one before the game yesterday.
England just doesn't possess an inspiring set of players in that regard and it's no singular person's fault, particularly not Southgate who can only work with the hand he has been dealt. There's only so much coaching-up you can do to some footballers, sometimes, you need sheer talent to take over. The Three Lions will simply have to persist with the uninspiring Delph, the hit-and-miss Barkley and an ever-improving Rice - for now at least...
Again, it'd be unfair to lay blame at the player's door. I'm confident in the belief that those guys are giving it their all, sometimes, that's just not enough. Unfortunately, it was evident to great effect at the hands of a far superior Dutch midfield last night.