Why great midfielders suddenly make great managers
Legendary figures chasing managerial seats after retirement isn't a rare sight in football. Despite hanging up their boots, the passion for kicking the round object still stirs in the soul. If they can't kick it in the literal sense, they can kick it in the figurative from the dugout.
Unfortunately, the old saying that those who can't do teach works both ways and too often in direct proportion. Those who could do don't teach and those who did at the highest level tend to make the worst teachers. Teaching is an empathic exercise. The master must understand the student. An elite player who never struggled, to whom it all came naturally, often thinks his players should immediately comprehend his instructions. When they don't, he can't relate.
That may have been Maradona's problem as a gaffer. Gary Neville, too. The former Manchester United full-back found himself in over his head at Valencia when he took everyone's advice to apply to coaching the superb analytical skill he displayed as a pundit. He understood the tactical side up and down the pitch, but as a gritty English defender couldn't relate to refined Spanish technicians.
A trend recently emerged, however. A handful of world-class midfielders are taking to management like cats to the sound of an electric can opener. The question is why midfielders?
As in so many things, Johan Cruijff pioneered the trend but it wasn't until a generation later that it took off.
Zinedine Zidane picked up where the Dutchman, whose trademark turn he famously made his own, left off, winning three Champions Leagues in two-and-a-half seasons. He was so good as a manager, that Real Madrid pleaded for his return when two lesser lights failed. Julen Lopetegui was a former goalkeeper. Santiago Solari was an average midfielder who turned into an average manager, which raises the question in comparison to Cruijff and Zizou whether a midfielder's skill as a player will translate commensurately in the dugout?
Carlo Ancelotti wasn't the most-skilled midfielder of his day, yet he seemed to fit in wherever his manager needed him. He's achieved so much as a manager by adapting to the needs of his various squads rather than demanding they adapt to his. Along with Ottmar Hitzfeld and Jose Mourinho, he is one of just three bosses to win the Champions League with two different clubs. He, Zidane and Bob Paisley are the only three to win three. As a manager, he is the ultimate facilitator.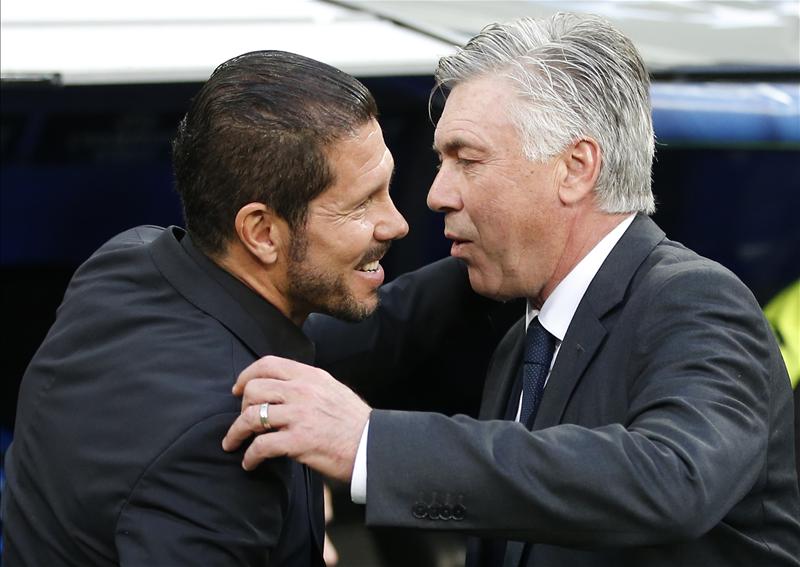 Diego Simeone: "I have great respect and admiration for Ancelotti, for the person and for the coach he is."
https://t.co/2twNjQtllH
As Ancelotti helps Napoli find themselves post Maurizio Sarri and Zidane attempts to reassemble the makings of a dynasty his successors shattered, the midfield partnership from England's golden generation is making noise across the channel. Frank Lampard has Derby County in the playoffs in the Championship. Steven Gerrard is restoring Rangers to their customary place alongside Celtic in the Scottish Premier League. Chelsea legend Lampard had no previous coaching experience. Gerrard worked heavily with the youth set-up at Liverpool. Michael Carrick is taking a more methodical approach as an assistant for both Jose Mourinho and Ole Gunnar-Solskjaer. There are exceptions. Paul Scholes foray into coaching proved as torturous as fellow Class of '92 alumni GNev's at Valencia. He was in the dugout for Oldham Athletic for just over a month.
The question is why great midfielders can make excellent managers? It's a two-part answer, I think.
First, on the pitch, they were at the centre of the action. They controlled matches, winning balls, transitioning from defence to attack, directing traffic. Watch a match and you'll see number sixes and number eights telling their mates where to go much like a goalkeeper marshals the defence. Central midfielders orchestrate every aspect of the game. If they have the ability to communicate their expectations as players, there's a good chance they can be successful managers but there's one more element they need.
Cruijff, Zidane, Gerrard, Lampard and Carrick are all legendary for maintaining composure. Put your hand down, Marco Materazzi, I see you and never mind about my mother. Zidane lost his head the one time in the most critical moment, it's true, and maybe the need to make amends drives him as a coach. For all these legends, however, composure doesn't mean the fire doesn't burn, only that it's under control. Again, of the group, Scholesy was the most impetuous. He was a force of nature on the pitch. The fire raged.
Then again, Gennaro Gattuso, Antonio Conte and Diego Simeone can tell you about raging fires. The three midfielders roared through Serie A in their playing careers. They barely contain themselves as managers but are nevertheless successes.
Conte had his Zizou moment with Diego Costa at Chelsea, dumping the striker via Twitter after winning the Premier League title in his debut season. He also won three Scudettos with Juventus and took the Azzurri deeper into Euro 16 than anyone anticipated, all the while running up and down the touchline like a six-year-old on a half-dozen espressos with every goal his squad scores.
Simeone's emotions trip him up as well. He was fined heavily for pantomiming juggled testicles in the Champions League quarterfinal first leg against Juventus. Cristiano Ronaldo had the last juggle in that one but Simeone still can point to a La Liga title, two Europa League crowns and a Champions League final appearance.
Gattuso is new to the dugout, taking over AC Milan midway through last season. In his first full campaign, he has the Rossoneri in the Champions League places despite questions regarding his tactical nous and open criticism of certain players.
Of the trio, only Simeone has shown staying power. That said, you can expect to see Conte back in the dugout, lesson learned, a slightly tighter grip on his temper. All three are effective communicators even if their subject matter has more to do with aggression and emotion than technical wizardry. They understand the game even if that happens to be from a different perspective to their more calculating midfield brethren.