Will Paul Scholes succeed at Oldham?
Scholes made his name as a player at Manchester United. Can he do the same as a manager at Boundary Park?
Paul Scholes was officially unveiled as the new Oldham Athletic manager on Monday. The 44-year-old signed an 18-month contract which sees him replace Frankie Bunn, who was dismissed in December. The official announcement came as no surprise. The former Manchester United midfielder agreed to lead his boyhood club at the end of January, but his involvement with National League side Salford City raised questions surrounding the EFL's rules on duel interest. Clearance was given at the end of last week, allowing an announcement to be made. Scholes has stepped down as a director at Salford in order to carry out his role at Oldham. Former United youth coach Mick Priest joins him as assistant manager.
The Latics currently sit in 11th position in League Two, just seven points off a potential play-off spot after the Red Devils legend won his first game in charge; blitzing Yeovil Town 4-1 at home.
Scholes arrives at Boundary Park having achieved nearly all in his playing career. In 718 games for United, he won 11 Premier League titles, two Champions Leagues, four FA Cups and Three League Cups. The former midfielder also turned out 66 times for the Three Lions, appearing at two World Cups and two European Championships. There is no doubt that these experiences will be invaluable to him when making the step into management.
The new Latics boss officially ended his playing career in 2013 after a brief comeback. Scholes had been assistant manager for Manchester United's U23s. He had a short spell of four games as assistant manager to Ryan Giggs at Old Trafford at the end of the 2013/14 season, too. The last couple of years have been spent as director of Salford alongside punditry work on BT Sport. This is Scholes' first full-time managerial position.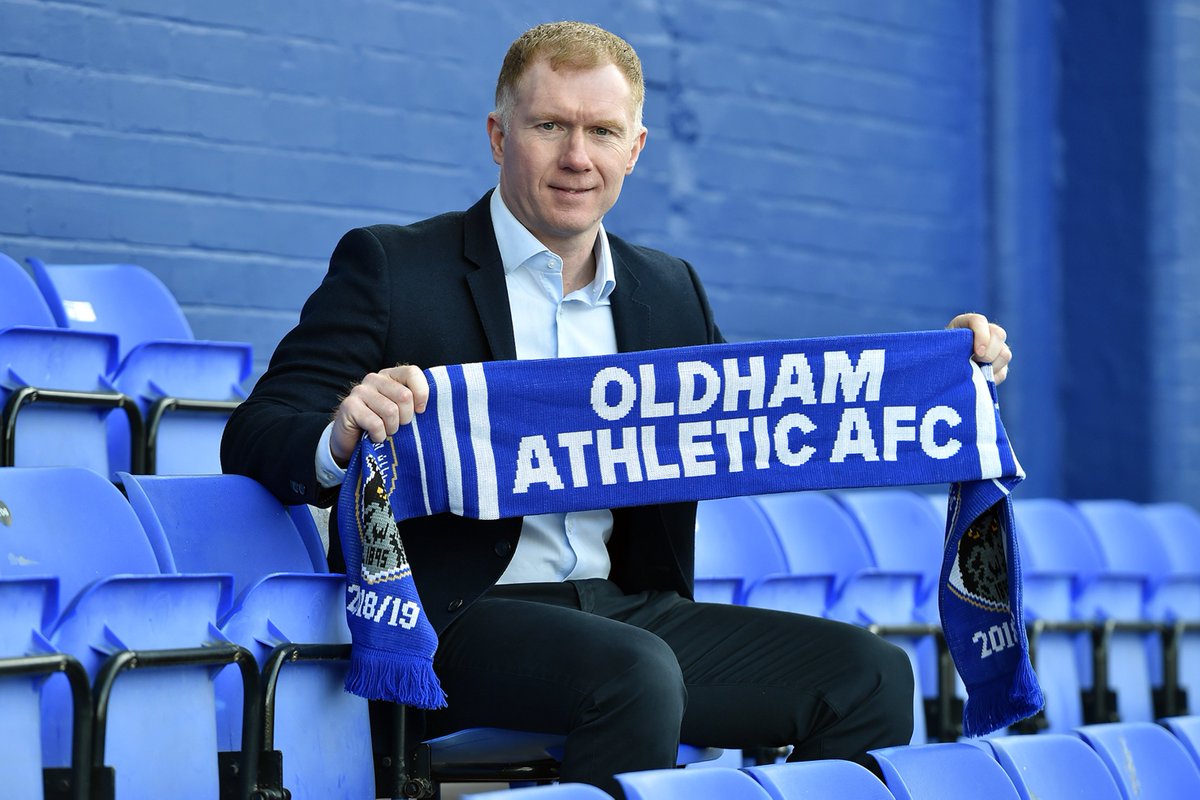 Compared to other managers in League Two, Scholes is lacking in managerial and coaching experience. The fact that he has achieved so much when playing will be one of the main reasons that he has landed the job. But success as a player doesn't always translate into success as a manager.
A fellow 'Class of '92' member, Gary Neville lasted just 16 La Liga games in charge of Valencia before receiving the boot in 2016. He has since returned to punditry. Another highly rated pundit is Thierry Henry. The Frenchman won two Premier League titles, three FA Cups and two La Liga titles among many more over a playing career spanning almost 20 years. The 41-year-old had his first taste of management this season but was released from his position at Monaco after just 12 league games.
Even a World Cup-winning captain struggled to adapt from playing to managing. Sir Bobby Moore was the epitome of a leader on the pitch. He took charge of Southend United in February 1984 but was unable to save them from relegation to the Fourth Division. His 113 games in charge of Southend, 1984-1986, bought 51 losses. That was his one and only managerial position.
Having said that, there are also many examples of players who have gone onto have long and successful managerial careers;
1998 Ballon d'Or winner Zinedine Zidane took over as Real Madrid boss in January 2016. Winning three Champions League titles in his three seasons in charge of Los Blancos.
Now known as one of the best managers in the world, it's easy to forget that Manchester City boss Pep Guardiola enjoyed a successful playing career before swapping his football boots for tactics boards.
More recently, both Frank Lampard and Steven Gerrard have made the jump into management. Lampard in the Championship at Derby County, while Gerrard has travelled north of the border to take charge of Rangers in the SPL. It is still early days, but both are showing early signs of adapting well. It may be a sign that a new generation of managers are starting to make their way into the game. Scholes could be next on the list.
What can Scholes bring to Oldham?
While appointing a manager with no experience is a risk, there is a lot of positives to giving Scholes a chance. One of the main ones would be the contacts that he will bring to the club. Anyone with the history in the game that Scholes has is going to have friends in high places that will be able to help him. Whether that be bringing in young players on loan from United, or just providing advice. I'm sure Sir Alex Ferguson will just be a phone call away.
Scholes' experience as a player can bring perks too. Having played in Champions League finals, the Oldham boss will be used to high-pressure situations. Empathy with the players should come easily to him having been there and done it himself. His playing career should instantly demand respect and admiration from his players.
Appointing Scholes is a risk by Oldham, but it could be a masterstroke if it works out. His reign couldn't have got off to a better start than a 4-1 home win over Yeovil on Tuesday. The man himself is excited by the challenge.
I like the team, we've got some good players, I think they should be capable of winning a lot of games in this league. I'm excited by it. If it comes off, great. And if it doesn't? At least I've given it a go.