USWNT justify request for equal pay
The 2019 FIFA Women's World Cup has reignited several discussions regarding female football's global standing. Among the big topics is the ladies' low pay in comparison to their male counterparts. Is it fair?
For countries such as the United States, the women's team has shown the ability to generate enough buzz. Their recent World Cup performance is a clarion call they deserve something better. Defeating tough opposition in Spain, France, and England on their way to the final proved there's merit in the USWNT's request for increased pay. Winning Sunday's showpiece 2-0 against the Netherlands rubber stamped it.
Not only the US the display of other sides in this World Cup shows the Ladies game has improved beyond what many assumed possible. That's not to say women footballers generate equal revenue as their male counterparts. Remember, though, it took a long time for the men's game to reach today's level.
Assessing Spain and the Netherlands, both nations never had a worthy domestic female league until recent times but still managed to excel in the World Cup, reaching the last 16 and finishing runners-up respectively. Imagine what others could achieve with a well laid out plan. Jamaica's women, for instance, lost all three of their group games, scoring just once and conceding 12 times. A solid structure going forward would soon bring about an improvement for them.
The sponsorship and advertising companies which put huge money into the men's game will do the same with the women's should its rise continue. This World Cup's semi-final between the United States and England drew 53,512 fans. Of those, over 20,000 travelled from the US to the Stade de Lyon, France. The final had 57,900 in attendance. Without a doubt, then, the USWNT is pulling its weight both on and off the pitch.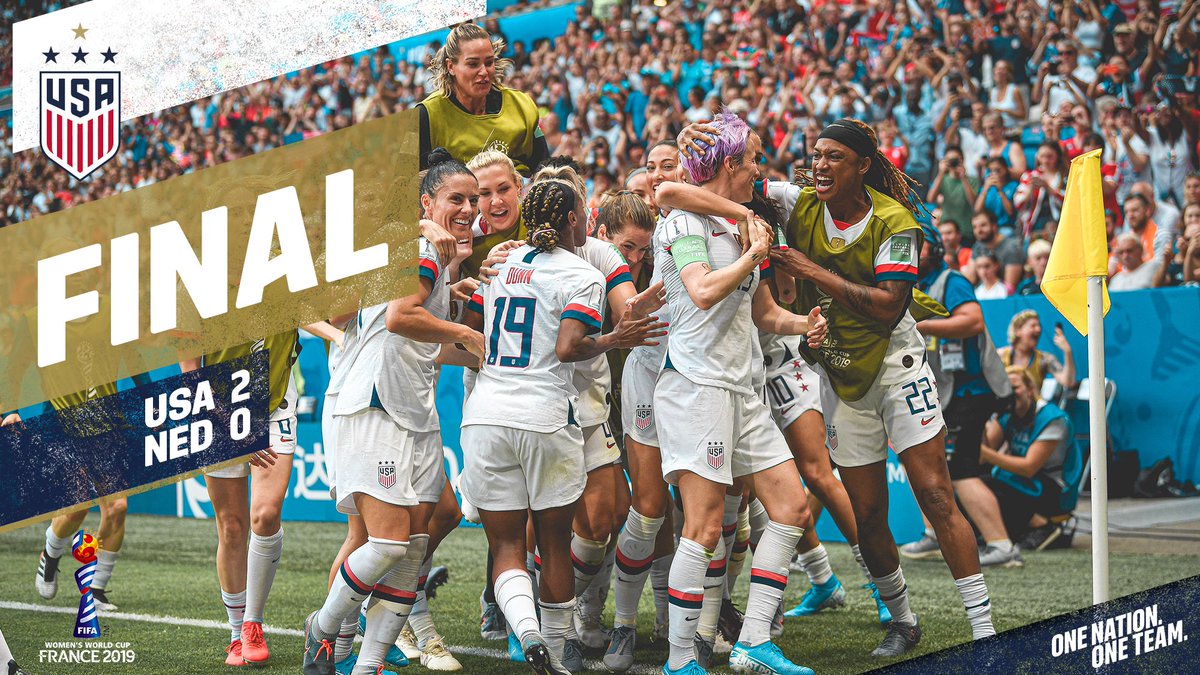 Securing their fourth World Cup is a real feat for the US women's team. More is expected from them going forward. The USMNT, meanwhile, failed to even qualify for Russia 2018.
To improve the female game further, FIFA has to deliberately champion the cause itself. Now the World Cup is over, a committee should be set up to implement a 20-year road map. It must start by ensuring every football association under its rule agrees to an active women's league. This will help to regenerate talents, with the best among them eventually moving to a better standard division and spreading awareness globally.
As for improved pay, 28 USWNT players filed a class action, gender discrimination lawsuit against the US Soccer Federation last month. Performance since then adds to their justification. Simply saying women can't/shouldn't earn as much as male counterparts no longer stands up to scrutiny.
With the US side unsurprisingly at the forefront, equal pay to men will get closer at a quicker rate than most can imagine. It should be embraced. Women's football is growing rapidly, meaning it won't be long until its club competitions across the board rival its World Cup. Then, the extra revenue generated will cascade down to the female players, bringing about an end to the current disparity.